Mr. President, Stop The Destruction Of Achimota Forest!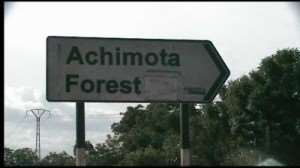 Dear Mr. President, please nip this Achimota Forest development plot being hatched by some people in your Administration in the bud.   This Forest must remain a forest.   If anything at all, we must revert some of the area currently being used for all manner of religious and other semi-permanent human activities to its original natural state.  
Not too long ago, some foreigners with the help of their Ghanaian accomplices were felling rare rosewood trees in the Mole Game Park.   That threat has not disappeared though the situation has been brought to the attention of the appropriate authorities.   That struggle to save the Mole National Park so lions and other wild animals can roam in the area again must continue.   Other protected areas including Ankassa, Kakum, Bui are under threat of destruction from illegal activities.
If some officials have their way, the Achimota Forest may disappear while we all look on. If these officials have their way, they will turn it into an amusement park.  
We used to have a lovely Ridge Park.   Now most of it has been taken over for other purposes.   The race course area near the Accra Stadium has been turned into a multi-purpose business development.   The green areas are disappearing all over the country with official approval and participation.  
Mr. President, do not let this happen under your watch.   Help save our environment. Green is life.   Stop the planned destruction of the Achimota Forest.
Very truly yours,
Papa Kwesi Nduom
November 10, 2013