Stool Land Office Educate Women Groups In Tamale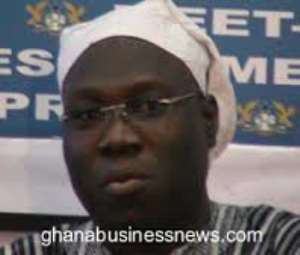 THE OFFICE of the Administrator of Stool Lands (OASL)-Tamale has organized a one-day gender sensitization workshop at the Tamale Regional Library for Women's Groups and the Vulnerable in society on the Second Land Administration Project.
The Acting Northern Regional Stool Lands Officer, Mr. Franklin Oppong-Obiri, said the role of women in national development cannot be underestimated as they are naturally endowed with home economics.
 
He said women were also critical role models and real change agents for socio-economic development, and without women life in societies would be chaotic, hence God created woman to lend support to man to ensure that he could perform his natural role in Land Management effectively.
'It  is crystal clear that the role of women in land administration is very crucial and any effort aimed at promoting public awareness to improve the capacity of women in understanding land management practices is a basic fundamental right for national development', he said
 
Mr. Oppong-Obiri added that the role of the Office of the Administrator of Stool Lands in LAP-2 is to deepen public awareness and promote greater collaboration with stakeholders particularly users of land as this would enhance better understanding of land administration, patronage for land documentation and registration particularly amongst women's groups.
On the expectation of LAP-2, the Northern Regional Communications and Public Outreach Officer, Mr. Saaka Ahmed Mustapha told participants that the Land Administration Project was a baby of the Ghana Land Policy of 1999 initiated by the Ministry of Lands and Natural Resources to address key issues in the land sector.
 
He mentioned some of the key issues as inadequate legal and regulatory framework, weak institutional capacity, fragmented institutional arrangement, weak land administration regime and indeterminate boundaries of customary lands, among others.
He said to address these challenges the first phase of the reforms under LAP-1 implemented from 2003 to 2010 laid the foundation by reviewing the statues on   land and carrying out institutional reforms as well as undertaking pilots on a number of initiatives such as Digitizing Land Records, Establishment of Land Courts, Customary Boundary Demarcation and Establishment of Customary Lands Secretariats and others.
 
Mr. Peter Osei Owusu who is the Head of Public & Vested Land Management Division at the Lands Commission-Tamale said while presenting a paper on the topic 'Land Acquisition Processes and Registration' – that the Land management and administrative functions of the Lands Commission as enshrined in the 1992 and the Lands Commission Act, 2008 Act 767 included facilitating the acquisition of Land for Government, managing state acquired lands and other functions as may be determined.
He took participants through the Land Acquisition Precautionary Steps and called on them to always obtain a site plan from prospective grantor and conduct a search at the Lands Commission and also verify from the Town & Country Planning Department.
 
He reminded them that State Lands are managed by the Lands Commission and thus all grants should emanate from the Commission. He cautioned buyers of land to satisfy themselves as to the ownership and evidence of title to the land first and insist on having access to the original documents of the land before effecting payments.