DHL Invests In West African Infrastructure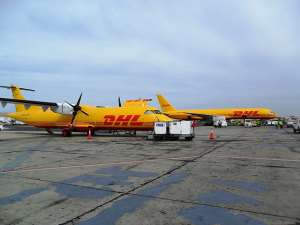 Cape Town, November 11, 2013: DHL, the world's leading logistics company, has announced an investment in both a facility and air infrastructure in West Africa, to meet the demand for express and freight services in the region. The recent investment includes the launch of a new airside facility in Dakar, Senegal, and the addition of 3 aircraft – a Boeing 757 and two ATR72s.
"Over the last few years, we've increasingly seen the importance of up scaling our facilities in the various regions within the continent," comments Oliver Facey, Vice-President - Operations for DHL Express Sub-Saharan Africa. "As multinationals turn to Africa, and as smaller African enterprises look to trade cross-border, regions like West Africa need increased infrastructure and capacity to cope with the rising demand for the transportation of goods across these markets."
The express operator, which already boasts a large hub and gateway in Lagos, Nigeria, opened the facility in early November, to handle transit volumes. The facility will enable the handling of material destined for Senegal and transit material through Dakar to help with the improvement of the service quality delivered to a market with ever increasing activity, consistently under time pressure.
"We have expanded our operation at Dakar as a natural location for feeding in traffic to West Africa," says Facey. "The Dakar facility receives a new return flight from Brussels and it will be serviced once a week by a Boeing 757 200 SF with a capacity of over 25 tons."
The two ATR 72's, each with a capacity of 7 tonnes, will connect countries including Senegal, Guinea, Sierra Leone, Liberia, Cote d'Ivoire, Mali and Mauritania. These aircraft are ideal since they have large cargo doors and provide a fully palletized loading capability, making them more efficient for handling.
He continues, "These investments mean that we can offer increased dedicated capacity in West Africa and generally have less dependency on limited commercial airlines uplift for volumes along the west coast of Africa. This increased capacity supports both DHL's express and freight products, especially perishable goods, which has always been one of the easier ways for African businesses to gain access to European markets and now DHL can better support players in this market."
Editor's Note:
Lee Nelson. Senior Manager – Marketing & Communications, Sub-Saharan Africa
DHL Express
Tel +27 21 409 3613 Mobile +27 72 361 0178
[email protected]

DHL – The Logistics company for the world

DHL is the global market leader in the logistics industry and "The Logistics company for the world". DHL commits its expertise in international express, air and ocean freight, road and rail transportation, contract logistics and international mail services to its customers.

A global network composed of more than 220 countries and territories and about 285,000 employees worldwide offers customers superior service quality and local knowledge to satisfy their supply chain requirements. DHL accepts its social responsibility by supporting environmental protection, disaster management and education.