HP Battles Counterfeiters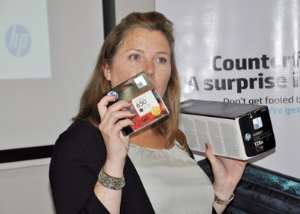 Tina Rose, ACF Marketing Programme Manager, PPS
With the scourge of counterfeiting hitting hard at brand owners, Hewlett Packard (HP) in the face of growing threats to the IT industry has taken the fight to the counterfeiters in a remarkable fashion to save its brand and restore customer confidence.
The IT giant has developed an elaborate collaboration with local authorities in Africa particularly in Ghana to fight the menace of counterfeiting of its products. The process is to enable customers of HP to identify genuine HP products from fake ones within seconds to minutes. The ground breaking move allows customers of HP to establish within seconds if the ink and cartridges they bought were genuine or counterfeits.
For some time now, counterfeiting and the explosion of fake products have been a nightmare
for manufacturers of various brands with the ICT and the pharmaceutical industry being the
hardest hit as it continues to erode profits and deny customers and consumers the full benefits of their genuine brands.
Counterfeiting is the unauthorized application or use of a trademark on goods that do not originate from the brand owner. Fake goods are designed to imitate products with the intention of deceiving customers into believing they are buying genuine goods.
Brand names are key in today's markets as they are reliable in determining product quality, origin and integrity. However these elements are often destroyed by Counterfeiters who misuse this reputation through their fraudulent acts.
As stated by Tina Rose, a Marketing Programme Manager of HP: "Counterfeiting poses a huge challenge to brands and businesses in Ghana and many other countries around the world. Counterfeiters harm manufacturers and customers by consistently undermining business standards and practices".
In her view: "Counterfeiting is bad news for everyone, as it dishonestly generates billions of dollars and threatens the reputation of global brands such as ours. It also harms consumers by creating low quality products with unknown chemicals which damage printers and could harm the environment."
Obviously, Africa appear to be a fertile ground for the illicit trading of counterfeit brands and products with countries such as Kenya, Tanzania, Nigeria apart from Ghana having reported widespread dealership in fake computers and accessories.
Counterfeiters of HP products focus particularly on printing suppliers, namely, print cartridges for Inkjet printing systems including format print cartridges. Of course the company had
maintained that refilled, remanufactured clone, compatible print cartridges sold legally bearing HP's trademark is genuine.
Fake HP products in no time produces cartridge leakages leading to sub-standard printout quality due to inferior components and this comes with What has made the situation more herculean is the constant innovations and sophistication of the counterfeiters that have often raised their game ahead of the genuine producers. This had often been leveraged to threaten the existence
of the manufacturer and the dealers in the trade. Indeed the war against counterfeiting seems unending and it called for steadfastness in the resolve in the ways to face the challenges ahead.
It is in the midst of these challenges that HP is currently leading the way to educate and create awareness for their customers to be constantly vigilant about fake printing supplies. To this end HP has been collaborating with local authorities for the past four years to conduct more than
1,000 investigations across Africa which has resulted in 800 enforcement actions in a bid to put a permanent end to the menace.
Tolulope Lawani, another Marketing Manager for HP in West Africa, explained the latest sophisticated security technology on HP printer cartridges, and reiterated the company's determination to protect consumers against the deceitful and illegal actions of counterfeiters.
According to him, through the Anti-counterfeit Programme, HP is working hard to protect partners and customers, and ensure they receive only authentic supplies by making it difficult to produce, distribute and sell counterfeits. HP has been tackling counterfeiting in three main ways:
awareness, product packaging and enforcement .As part of this programme, we have introduced HP Mobile Authentication technology on new Original HP print cartridges."
With HP Authentication Software, HP offers customers easy-to-use support to avoid counterfeit LaserJet print cartridges. Customers can download and install the free software from www.hp.com/go/TonerCheck. Should the software detect anything unusual, it will warn customers with messages and advise users on what to do next.
Original HP supplies distinguish themselves by their superior quality and reliability at competitive prices. Authentic HP LaserJet and inkjet cartridges, unlike counterfeits, benefit from a history of investment and testing to provide superior performance and consistent results.