Army and militants clash in conflict-scarred Mali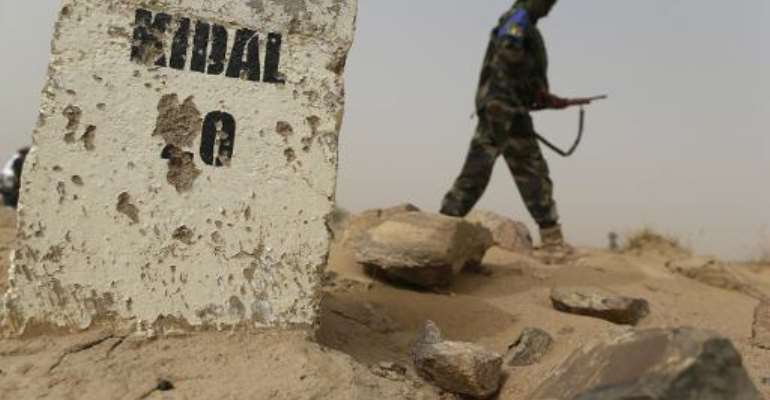 Bamako (AFP) - Insurgents launched an attack on the Malian army in the rebel-hit country's northeast on Friday, military sources said, in renewed fighting ahead of planned peace talks with the government.
The National Movement for the Liberation of Azawad (MNLA), ambushed soldiers as they were on patrol at a market near the border with Niger, several military sources based across the country told AFP.
One source in the north said three militants were killed and one soldier wounded in the brief exchange of fire, although this could not be independently verified.
"At the fair in Amazragane, 150 kilometres (93 miles) east of Menaka, a Malian army patrol was engaged by the MNLA," he told AFP by telephone.
"The MNLA death toll was three, and six were taken prisoner and a vehicle was seized. On the Malian army side, one soldier was wounded. Right now everything is back to normal."
A Malian army officer based in Gao, Mali's largest northern city, confirmed the clash took place but would not give further details, while another source in Bamako put the MNLA death toll at two.
The clash followed three attacks by the MNLA on soldiers in the rebel stronghold of Kidal in September, after the militants pulled out of peace talks with the government, dealing a blow to hopes of a durable peace in the troubled west African nation.
The collapse of the talks led to an upsurge in violence which saw two French journalists shot dead last week during a kidnapping in Kidal claimed by Al-Qaeda in the Islamic Maghreb (AQIM).
The chief suspect in the kidnapping is a Tuareg thought to have associated with both AQIM and the mainly secular MNLA.
The Tuareg, traditionally a federation of nomad tribes who rebelled in Mali and Niger in the 1960s and the 1990s, are seeking some kind of self-determination for the north.
The Bamako government strongly opposes Tuareg autonomy but is scheduled to hold talks with the desert people in November, according to an agreement signed in June in Burkina Faso, on a date yet to be agreed.
The MNLA took control of the region in February after a French-led military operation ousted Al-Qaeda-linked fighters who had piggybacked on the latest Tuareg rebellion to seize most of northern Mali.
The Malian authorities reclaimed Kidal after signing a ceasefire deal with the MNLA but the situation has remained tense.
The MNLA announced on Monday that it was merging with the Arab Movement of Azawad and the High Council for the Unity of Azawad to form a united front in any peace talks with the authorities in Bamako.