Kotoko To Mine Gold …Amidaus Dare Hearts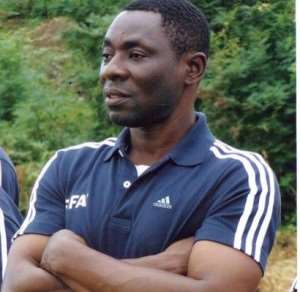 Kumasi Asante Kotoko will this weekend aim to cement their stay at the apex of the Ghana Premier League (GPL) standings, as they hope to go for gold at the Obuasi mines. The Porcupines warriors cross swords with AshGold at the Obuasi Len Clay stadium in a regional derby.
AshGold occupy the 3 rd position on the GPL standings, and will no doubt pose a massive threat to the Porcupines.
Despite the Miners' last weekend loss to New Edubiase, their dreadful attacking capabilities are never in doubt. Prior to their first loss in that game, they boasted of a perfect start of 5 wins, 4 draws and no loss.
The Miners, whose eyes are glued on the GPL title, cannot afford to drop any point as it will dent their title credentials.
Asante Kotoko's talismanic player, Yahaya Mohammed, will be missing from the game, as a result of accumulated yellow cards, which rules him out of the titanic clash. Kotoko coach, Mas-Ud Didi Dramani has, however, promised to carry the day since he has other capable replacements for his star player.
Elsewhere, in the Capital, at theTema Park to be precise, Amidaus Professional welcomes Accra Hearts of Oak in a derby match. The latter's outing last weekend was nothing to write home about, whilst Amidaus on the other hand were victorious in their away encounter.
The Phobians shared the spoils with Kumasi based KingFaisal in an uninspiring encounter at the Accra Sports stadium. They must, however, get back to winning ways if they want to mount any serious challenge to Kotoko, who lie on top of the league.
High flying Amidaus occupy the 6thposition on the log and with their recent brilliant performances, they will not allow themselves to be bullied by the Phobians.
Amidaus Professionals president, Alhaji Ahmed Gedo has rubbished the quality of the current Hearts team, ahead of their Premier League showdown.
'Hearts do not have a good team. Trust me they are not playing any quality football,' Gedo claimed on Happy FM
'They don't have quality players than any team playing in the league. They don't have any better players compared to ours. The only difference is their coach David Duncan.
'We're going to beat them. Last season they were lucky to pick up a point here. But not this time around. This time around, we'll beat them fair and square.
'You come to Tema on Sunday and see the new Amidaus team. Our boys are focused and ready to teach them a soccer lesson', Alhaji Gedo dared the Phobians. Let us see how Hearts will prove him wrong.
 
At the Kpando park, Heart of Lions, who occupy the 4thposition on the GPL log welcome Hassacas. Hassacas are sure to face a stiff opposition from the Lions, whose league performance at their home ground so far is impeccable.
The best Hassacas can get from the dreaded Kpando grounds is a point, which would be extremely hard to pick.
Kumasi King Faisal host New Edubiase FC, who dented the perfect record of AshGold, prior to Week 10 round of matches.
New Edubiase must go all out to defeat King Faisal, to refute the claim that their victory against AshGold was a fluke.
The Grunsah boys, however, will aim at nothing but a sweet victory that will aid them rise from what I describe as 'continuous slumber'. For them to make an impact this season then they must lift up their game, and it must be now or never.
Berekum Chelsea host Bechem United at the Golden City Park. A win is a must for Chelsea, who find themselves in the unfamiliar relegation position, as nothing short of a victory will spell their doom.
Liberty Professionals also hosts relegation threatened Inter Allies at the Accra sports Stadium. Liberty are still licking their wounds after their defeat against Kotoko last week, and will seek to pacify their fans with a victory at home.
At the   T&A Park , Madeama will welcome Aduana Stars in a mid-table clubs battle.
  http://thechronicle.com.gh/wp-content/uploads/2013/11/AshGold-coach-Bashir-Hayford.jpg
AshGold coach Bashir Hayford
http://thechronicle.com.gh/wp-content/uploads/2013/11/Hearts-coach-David-Duncan.jpg
Hearts coach David Duncan
http://thechronicle.com.gh/wp-content/uploads/2013/11/Liberty-coach-George-Lamptey.jpg
Liberty coach George Lamptey
http://thechronicle.com.gh/wp-content/uploads/2013/11/Kotoko-coach-Didi-Dramani.jpg
Kotoko coach, Didi Dramani
http://thechronicle.com.gh/wp-content/uploads/2013/11/Herbert-Addo-Inter-Allies.jpg
Herbert Addo, Inter Allies