VRA Resettlement Fund Managing Trustees Inaugurated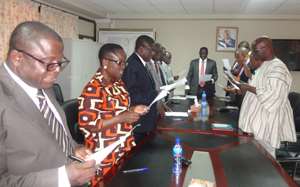 Energy Minister (at head of table) swearing in the reconstituted board
The Minister for Energy and Petroleum, Emmanuel Armah-Kofi Buah, on Monday inaugurated the reconstituted Managing Trustees of the Volta River Authority's Resettlement Fund.
The 15-member board will oversee the distribution of US$500,000 among 52 resettlement townships, an amount to be expended on developmental projects (social and welfare) of their choice.
The board is chaired by Andrew T. Barfour, Project Coordinator, Ghana Energy Development and Access Project (GEDAP) of the Ministry of Energy and Petroleum (MoEP).
The members include Stephen Doku, Director of Power, MoEP, Maxwell Odoom, Deputy Chief Executive, VRA, Winfred Amenu, Legal Counsel, VRA and Gloria Appoh, Administrative Officer, GIMPA.
Others are E. Kwasi Banduah, MP Biakoye, Ibrahim Dey Abubakari, MP East Gonja, Masawudu Mohammed, MP Sene East, George Loh, MP South Dayi and Jeff Tetteh Kavianu, MP Upper Manya Krobo.
The rest are Wisdom Gidisu, MP Krachi East, Amadu Seidu, MP Central Gonja, Joseph Appiah, MP Kwahu North, Helen Adzoa Ntoso, MP Krachi West and Magnus Kofi Amoatey, MP Yilo Krobo.
After swearing the official oath and oath of secrecy, the Minister charged them to work together and implement decisions that will inure to the benefit of the affected communities and the country as a whole.
He asked the trustees and management of Volta River Authority (VRA) to bury their differences to guarantee the success of the fund which was set up in the early 1960s to cushion communities forced to relocate after the VRA Project.
Ing. Barfour, speaking on behalf of the board, thanked the Minister for the confidence reposed in them and pledged to work with his team to improve the living conditions of the inhabitants of the 52 resettlement communities.