Woyome warns: Some people will run from Ghana after my court case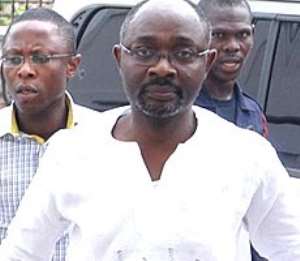 Alfred Woyome
Embattled businessman, Alfred Agbesi Woyome, has expressed strong reservations about media reportage about him outside the courtroom.
An obviously angry Woyome stepped out of the courtroom Wednesday to confront a team of journalists after the day's hearing in the High Court presided over by Mr Justice John Ajet-Nassem.
Woyome was just about descending the staircase of the second floor of the court building when he spotted the journalists.
In a video made available to graphic.com.gh http://graphic.com.gh , Woyome was seen calling some of the journalists, and thinking that one of them was a Daily Guide reporter asked "are you the Daily Guide reporter?"
They lady responded in the negative.
This appeared to have cooled him down a bit before he launched into his complaints
The Daily Guide had reported on October 17, 2013 that Agbesi Woyome had returned from a trip to the United States, where he went to cool off during the two months legal vacation.
But the publication tickled the wrong nerve as Woyome denied vehemently that he was in the US to "chill".
"I have never been to the US, why do you people keep doing this kind of nonsense. It is foolishness. Let me finish this case. Some people will pack their bags and leave this country," he fumed before he was pulled away by one of the women following him.