SWIFT & TIMELY HUMBLE CALL BY EX-CHAIRMAN OF N.D.C- UK/IRELAND CHAPTER, MR. HORACE NII AYI ANKRAH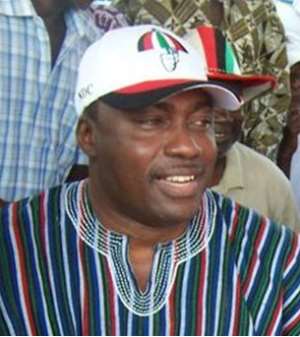 Cherished readers, there is this popular saying that: patience and diligence, like faith, remove mountains. In view of this and with respect to the current developments in the ruling NDC party and government per Hon. Bagbin's criticism of President John Mahama and the issues arising afterwards, I noticed, without any surprise of the source, only one call for peace and oneness in service.
Below was what this very diplomatic politician of our time had to say when interviewed by myjoyonline.com on the 5th of November 2013.
Mr. Horace Nii Ayi Ankrah ,the immediate past Chairman of the UK & Ireland Chapter of the ruling National Democratic Congress, has called on his warring colleagues to calm down, put their heads down and continue to work for the people of Ghana. "The NDC and President Mahama are capable of steering both the party and the country out of the current challenges. The current situation in both the party and the country is not beyond us," he noted. "As a party, the NDC have a committed duty to Ghanaians, and that should be the bigger picture." Reacting to the recent development between Hon Bagbin and Presidential Staffer Stan Dogbe, Mr. Ankrah stated that, "the NDC accepted the challenge to make Ghana a better place for all and all must work towards this goal therefore, personal differences should be settled at the family reunions." "We are a party in power and we should let the Ghanaian feel respected by our words and deeds," he posited. Commenting on corruption in the country he called on the two major parties, the NDC and the NPP to refrain from the 'who is worse attitude' and concentrate on how to make the measures put in place by President Mahama work. "President Mahama has been presented with the biggest opportunity in his political career to deal with an ill that is not palatable and he will deal with it." Touching on the 'first gear' issue by President Mahama when cornered, Mr Ankrah said "the first gear of every vehicle is the strongest gear but no driver stays in that gear for too long and I do not expect President Mahama to stay in that gear for long because I know he wouldn't. I believe it was a figure of speech to tell Ghanaians that he felt strong about what he intends doing for the country." "The warring heads should calm down, put the Ghanaian first and certainly the NDC will show its capabilities because we have the men to do that," he concluded
Indeed swift and timely humble call by the immediate past Chairman of the UK & Ireland Chapter of the ruling National Democratic Congress. In fact the call is well noted…..kudos! Mr. Horace Nii Ayi Ankrah.
Written by; KOFI AZUMAH XORNAM a.k.a 'ZUMZUM
The immediate past TEIN-UCC, VICE PRESIDENT
E.MAIL; [email protected]