Melcom marks 1st anniversary of Achimota shop disaster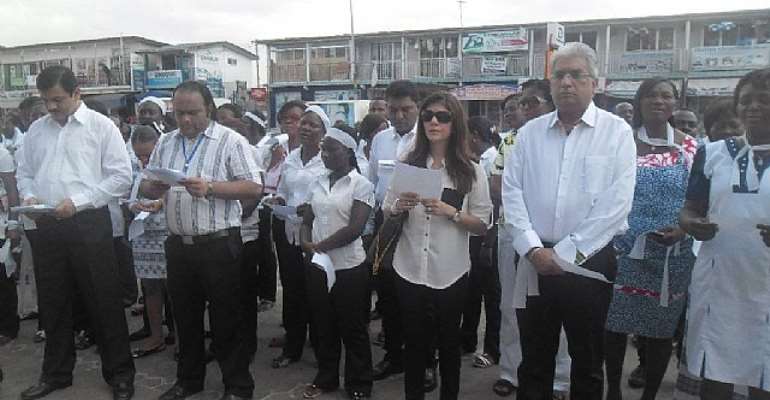 Accra, Nov.7, GNA - The Melcom Group of Companies on Thursday solemnly marked the first anniversary of the Achimota Melcom building collapse throughout its departmental stores.
At the Melcom Plus Store in Kaneshie, Accra, the ceremony was led by Mr Godwin Avenorgbo, Group Communications Director.
Staff, who were dressed in white and black, sang hymns and local gospel music, prayed and observed a minute silence for the victims of the November 7 disaster.
The 13 victims whose names were read out include Christopher Benzrah, Neil Luttrodt, Comfort Adjei, Dora Odoi, Portia Boateng, Sharon Amankwah, and Prince Adjei Darko.
The rest are Alice Atiso, Esther Abosoka, Ruth Atintuek, Gerad Berhene, Frederick Adu Amoakwa and Michael Aboagye.
Mr Baghwan Ramchand Kubhchandani, Chairman of the Group, in a message read on his behalf by Mr Avenorgbo, said: 'A year ago today, the foundation of our business was hit hard by a tragedy of grave consequences: The Achimota Branch building collapse. It was a shock and the pain caused by the loss of precious lives will be felt for a very long time to come.'
He gave the assurance that Management had fulfilled all obligations to the victims as required by law, and had gone further to extend humanitarian support aimed at alleviating the pain of the loss of lives.
'With the exception of one child whose relatives are yet to submit a school fees bill for payment, one child of each deceased is now fully covered under our scholarship scheme and are continuing their education,' the Group Chairman said.
'We have gone a step further to institute another scholarship scheme for children of our hardworking staff and I am pleased to announce to you that with effect from today the first batch of scholarships for the beginning of 2013/2014 academic year will be released.'
Also present at the function were four survivors of the disaster: 'Benecdict Quartey, Solomon Adu, Daniel Langari and Moses Combat'. The four of them expressed their sincere gratitude to God for their lives.
GNA