Alban Bagbin, You Can't Fool Anybody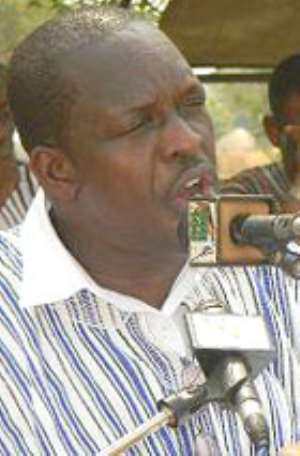 There's no doubt that Hon. Alban Bagbin is one of the finest politicians of our era.
He made his mark especially when he was the Minority Leader in parliament. His lamb-like persona and his ability to drive home his point on the floor of parliament using wit won him several admirers. But his utterances, actions and inactions in the recent past reveals a character flaw that is unbecoming of a politician of his stature.
His verbal attacks on President Mahama this few days does not come as a surprise to those who have noticed the character flaw in him. It is vintage Bagbin in his ability to exploit an opportunity to further his parochial interest.
In 2009, feeling peeved that he had not been made a Minister, Bagbin took advantage of Rawlings allegations that Mills was surrounded by "greedy bastards" to level his own allegation against President Mills.
The accusations Bagbin levelled against Mills is no different from those he is levelling against President Mahama today. In 2009, he alleged that President Mills had "surrounded himself with 'sycophants', 'bootlickers' and 'fair-weather friends' who were prepared to clean his shoes. For President Mahama, Bagbin has replaced 'sycophants', 'bootlickers' and 'fair-weather friends' with family and friends.
Bagbin also posited that President Mills "has failed miserably" on SADA. For President Mahama, Bagbin has replaced SADA with corruption.
Soon after all these attacks on President Mills, Bagbin was appointed Minister for Works and Housing. Suddenly, nobody heard him talk again. Did his appointment see the sycophants, bootlickers and fair-weather friends around President Mills vanish? Did his appointment result in President Atta Mills becoming a success as far as SADA was concerned?
In Rawlings' House in 2009, Bagbin called on party members to feel free to openly criticize President Mills. This he said will help deepen democracy within the government. After he was appointed Minister by President Mills, Bagbin told Mrs. Rawlings, who had criticized President Mills to shut up! If this is not hypocrisy and double standards, then one does not know what it is.
Meanwhile, it is also common knowledge that Bagbin as a Minister was one of the Minister who was not accessible to people. He rarely picked calls made to him. It is an irony that Bagbin is today complaining that he cannot get access to the President. Indeed, if his claim is true (which we know is not) then it is the law of karma that is visiting him.
Alban Bagbin, no doubt, wants to use the same route he used to get into cabinet Minister position under Mills to get similar position under President John Mahama. We hope the President does not fall for this gimmick. With all this history about Bagbin, need we say that all the noise he is making is to serve his own parochial interest. In my case, as a matter of principle, any member of government who wants to PUBLICLY criticize the government he belongs to is free to do so; but he must resign before he does that.
It is not strange that Bagbin is receiving support especially from those who have not been given positions in the Mahama government and are therefore bitter because they think that it is their divine right to be appointed to positions in every NDC government. It happened under Mills when those who did not get appointments under him turned against him. History is repeating itself.
"The world is bad
One does not know whom to trust
The good ruler who stands for the people
Becomes a victim too soon
And bad rulers like bad source, stay longer
A world that knows not what it wants
A dizzy world, this"
President Mahama can relax in the comfort of the knowledge that the vast majority of NDC supporters are solidly behind him. If the few renegades, however, succeed in getting him out the seat of the NDC leadership at congress as they are planning to do before the 2016 elections, so be it. Let them take over the NDC and win the 2016 election. Then they can rule to satisfy the Bagbins of the world.
"Whoever thinks that he can Rule better than our king
Let him first go home and rule his wives
Then he will know how hard to rule is hard
Meat that has fact will prove it by the heat of the fire"