Melcom Donates To 37 Military Hospital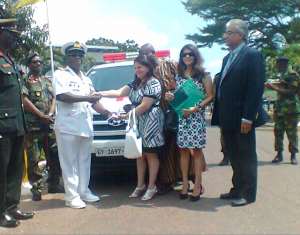 The CDS Receiving The Keys To The Ambulance From Madam Rani Melwani Of Melcom
Melcom Care Foundation, the humanitarian wing of the Melcom Group of Companies has donated an ambulance worth US$ 33.000.00 to the 37 Military Hospital.
The presentation forms part of the Company's Chairman, Mr. Bhagwan Khubchandani's 75th birthday celebration which fell on 4th November 2013.
According to Mr. Godwin Avenorgbo, the Melcom Group of Companies Communications Director, the donation also forms part of the Foundation's give back to the society effort.
It is also to honour the hard working Doctors, Nurses, drivers, Laboratory Technicians and Administrative staff and to show gratitude to all Ghanaians for the support given them last year during the tragic Achimota Melcom disaster.
Mr. Avenorgbo disclosed that the Foundation was established in order to re-invest their profit into humanity and create a sense of belonging among the members of the communities where they operate.
He mentioned that they have supported a large number of children and adults from basic to tertiary levels including overseas education sponsorship. We have also supported the building of school blocks and renovation of existing school buildings at the basic level.
This year we sponsored the distribution of thousands of exercise books to students in tertiary institutions such as the Legon Hall Representatives Council, History Students Association of the University of Ghana respectively and the Regent University College of Science and Technology among others.
Receiving the keys to the ambulance on behalf of the Hospital, Chief of Defense Staff [CDS] Vice Admiral Mathew Quashie thanked the Melcom Group of Companies for their kind gesture and asked other philanthropists and organizations to emulate Melcom's examples.
The CDS proposed for a partnership between the Hospital and Melcom as well as other corporate entities to enable the 37 Military Hospital function more effectively as expected of it adding '' The Hospital even though a top-most health and a National Emergency Trauma center in Ghana, it has not enjoyed as much facilities as we have wished''.
The Hospital according to him does great service to the whole country as any time the Doctors go on strike they at 37 and the Army do work around the clock and therefore the presentation by Melcom indicates that the work done by staff and administration is been appreciated
He commended the Company for its support to Ghanaians by way of selling their goods at affordable prices which meets the pockets of every ordinary Ghanaian and foreign nationals resident here.
Vice Admiral Quashie promised that the ambulance will be put to good use and used the opportunity on behalf of the Military High Command to wish Mr. Khubchandani a belated happy birthday.
He also wished the Group of Companies well and reiterated his call for greater and closer partnership between his outfit and the Company.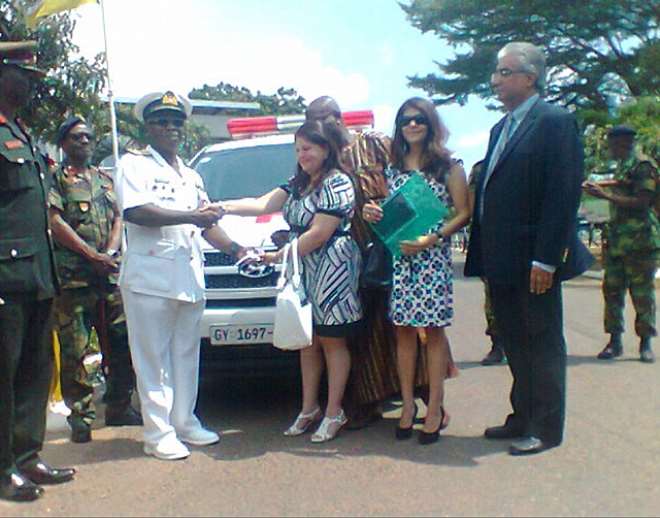 The CDS Receiving The Keys To The Ambulance From Madam Rani Melwani Of Melcom