Cameroon author wins top French literary prize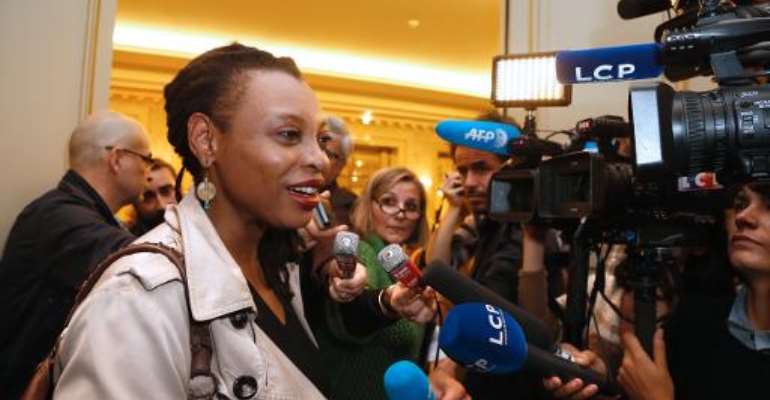 Paris (AFP) - Cameroonian author Leonora Miano on Wednesday scooped France's Femina literary prize and used her acceptance speech to denounce racist insults directed at the French justice minister.
"It's not only the minister who is insulted, but all black people who are reduced to being animals (by this)," Miano said, referring to two occasions in the past month when Christiane Taubira has been publicly compared to a monkey.
Miano's "The Season of Darkness" ("La Saison de l'ombre") explores the loss of loved ones by sub-Saharan Africans during the slave trade.
American author Richard Ford, meanwhile, won best foreign novel for "Canada" about a boy who has to fend for himself after his parents rob a bank.
"I am very happy, for everyone who feels a little avenged today," Miano told the award ceremony in Paris.
Earlier on Wednesday, Taubira made her first public comments about the racist taunts, warning of a rising tide of racism in France.
"It is not about careless little slips of the tongue, it is much more serious than that," she said in an interview with left-wing daily Liberation.
"Inhibitions are disappearing, dykes have been breached," she said.
The first time Taubira was compared to a monkey was by a group of children whose parents had taken them on a protest against same-sex marriage.
On the second occasion, the insult came from an electoral candidate of the far-right National Front who wrote on her Facebook page that she would prefer to see the minister "swinging from the branches rather than in government".
"The Season of Darkness" is the seventh novel by Miano, 40, who has lived in France since 1991.
"I work in my books on wounds that are deep rooted and universal, on what is not said, on questions that can be considered taboos," she said.
"Some in the African diaspora have felt attacked by my literary offerings but I'm not here to pat anyone on the back," she said.
The book follows the quest of a group of villagers to discover what has become of a dozen men who disappeared after an attack on their village.
The word "slave", however, is never used because Miano said it did not make sense for the protagonists.
"The majority of sub-Saharan Africans at the time were neither prisoners nor traffickers. They were simple people without the slightest power over events," she said.
"I wanted to put the humanity of the characters at the forefront. Their emotions, their feelings. Anything that comes to mind when we look at images of bodies crammed together at the bottom of a ship or shackled captives," she added.
The Femina Prize is awarded in three categories -- best French novel, best foreign novel and best essay -- by an all-woman jury.
The best essay prize was awarded to Jean-Paul and Raphael Enthoven for a work entitled "Dictionnaire amoureux de Proust".