NPP France Invites Nana Akufo Addo On 15 December 2013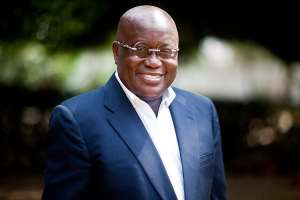 Nana Akufo Addo, now known to many in the United Kingdom as DAVID, following the recent 2nd year anniversary celebration of the "Nana Addo Ladies Club", UK Branch, where the Club members appealed to all present to know and call Nana by David henceforth, will storm Paris on 15th December 2013.
Nana Akufo Addo and his wife, Mama Rebecca, have been invited over by the NPP Paris Branch chaired by Mr Owusu Kanin (NPP National Chairman in France). 
 
The name David given to Nana Akufo Addo is symbolic. The biblical King David, as tiny as he was then in his youthful age compared to Goliath, the Giant of the Philistines, was able to kill Goliath with a single throw of stone from his sling. Nana will hopefully floor John Mahama without anyone able to rig the elections for the NDC as has been the case, hence the name David.
 
The NPP France are inviting Nana to reassure him of their unflinching support in whatever political position or direction he takes after the most disgraceful, corrupted and travestied judgment pronounced by Supreme Court Justice William Atuguba and his colleagues on Election 2012 petition.
 
NPP National Chairman Owusu Kanin, Deputy Chairman Asabre Basoah, Mr Yeboah Frimpong, alias Dr Ntiki ( NPP National Chairman of the Council of Elders, France branch) and all the members of the NPP - France Branch, cordially invite all Ghanaians in France especially those in Paris, to join them to welcome Nana Akufo Addo and wife to Paris on Sunday, 15th December 2013.
 
In December, a new publication will come out with detail information on where, time and how spectacularly Nana will be welcomed. In the meantime, all Ghanaians are being informed to prepare towards Nana's arrival. Hopefully, Souls radio- Paris, will give the occasion live radio coverage.
 
Nana Peter Antwi Boasiako and Obaa Yaa alias "Anoteewa" of the NPP - UK Communication Team, may come to Paris to grace the occasion. Rockson Adofo will be there to meet all old colleagues, so take note.
 
Messrs Abi Solo, Appau alias Life and Acheampong alias I.K, will volunteer to convey people to the venue free of charge. COME ONE AND ALL!
 
"Vous êtes tous invités à rencontrer Nana Akufo Addo et son épouse, Madame Rebecca, le 15 décembre 2013. Je prie avec tous les Ghanéens, en particulier ceux de Paris à venir en grand nombre pour aider NPP bienvenue Nana Akufo Addo et épouse en grand style"