My Heart Bleeds – Prof Adei Blasts NDC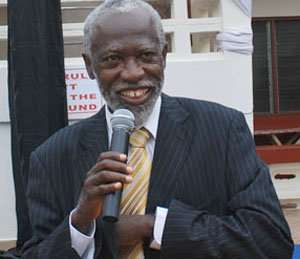 Prof. Stephen Adei
Professor Stephen Adei, former Rector of the Ghana Institute of Management and Public Administration (GIMPA), has described the 'Better Ghana Agenda' as an empty slogan which does not point to the current state of the country's economy and where the government envisions the economy to be in future.
'If you say 'Better Ghana Agenda and you dig one borehole, it  can still be 'Better Ghana agenda,' he explained.
'As an economist, my heart bleeds that after over 50 years of independence, our politicians and state institutions like Electricity Company of Ghana (ECG) etc are still giving excuses for poor service delivery.
Prof. Adei disclosed this while speaking at this year's Global Leadership Summit held in Accra last Wednesday at the National Theatre on the topic, 'Building the Ghana we want to see.'
'The average Ghanaian is looking for hope and a direction from the government that in the years ahead they want to accomplish A,B, C etc; so that people can work towards the goals. Ghanaians need a vision and development agenda and not party manifestoes,' he stressed.
When there is a credible and measurable national vision, a government's four or eight-year mandate would easily fit into the national agenda and vision.
Rather than saying 'Ede be keke,' the government could have given timelines for every child to have free secondary education, when all major roads in Ghana will be tarred or when a modern railway will be constructed from Accra to Paga, Prof Adei explained.
In his view, quality and transformational leadership is God's answer to all the problems plaguing Ghana.
'That quality leadership has little to do with the number of promises the leader makes, but the environment the leader creates for the people to take advantage and develop themselves.
'Our goals as a nation should not be the MDGs. I want somebody to tell me where Ghana will be in the next 16 years. As an economist, I do not know, and I think you don't know either,' he said, while the audience burst into laughter.
Prof Adei said Ethiopia, a country classified as poor by all indicators, recently constructed a $4 billion hydro dam without taking a loan from any donor through visionary leadership.
'That is leadership; the Ethiopian leaders have a vision of where they are going,' he emphasized.
On the contrary, Ghana has been planning its economy based on an elusive $3 billion Chinese loan when we could have generated most of the money locally, according to him.
In a given year, the loans Ghana obtained from donors totaled $1.6 billion when the revenue authorities have what it takes to generate the same amount from the Tema Harbour alone in six months.
Prof Adei blamed Ghana's economic non-performance on systemic corruption and lost values, noting that very corrupt politicians and public servants still want to be called 'honourables and they are those preaching peace, so they can enjoy their stolen wealth.
He stated that on a recent visit to the Upper West Region, he discovered that in one district only 26 percent of the pupils had passed the Basic Education Certificate Examination (BECE), stressing that those who failed have no opportunity to rewrite the examinations and would probably be condemned to misery for the rest of their lives.
'How can we be so wicked to the less privileged?' he asked.