Chinese 'Galamseyers' Equipment Stolen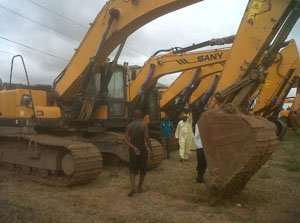 One of the stolen Sany excavators found at Dworwulu
About 45 equipment, mostly excavators and heavy-duty machines, as well as 50 Pick-ups, have been stolen.
Only six equipment have been found so far with the help of the police.
This reporter gathered that when government took action to flush out illegal miners from the sector, some Chinese nationals were arrested and detained by the Ghana Immigration Service (GIS) for investigations.
After the investigations, those who were released went back to retrieve their equipment but they realized that most of them had been stolen.
The Chinese nationals officially petitioned government's Inter-ministerial Task force, the National Security, police, as well as the Bureau of National Investigations (BNI) to assist them retrieve their equipment since the government directed that the exercise was not meant to deprive them of their machines.
CITY & BUSINESS GUIDE gathered that three Lebanese and a Chinese lady (names withheld due to security reasons), are said to be involved in the theft of the equipment aided by some personnel of the Inter-ministerial Task force.
Lawyer for the Chinese nationals, who confirmed this to CITY & BUSINESS GUIDE, said investigations were being carried out by the police to find out the real culprits involved in the criminal activity.
The chassis numbers of two stolen Sany excavators, which were found at Dzorwulu, a suburb of Accra, had been tampered with.
A consultant to the Chinese nationals, who pleaded anonymity, told the paper that the criminals attempted to change the chassis numbers of the Sany excavators and other equipment so they could re-sell them.
In view of that, he cautioned the general public against purchasing mining equipment and tractors, among others, which do not have the original documents covering them or fake chassis numbers.
He additionally urged the public to report anyone who would be seen selling such Sany excavators to the police for investigations. A Sany excavator costs about $275,000.
It would be recalled that Hansol mining company also complained about the theft of its equipment and tractors after the government ministerial taskforce raided its premises.
Most of the company's equipment and pickups were also set ablaze by the Task force.
The matter was reported to the police but the culprits are yet to be arrested.
By Cephas Larbi