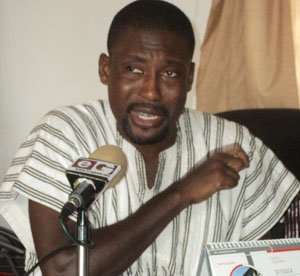 Richard Nyamah
In an interview with DAILY GUIDE, Richard Nyanmah said following the publication of PNF's press statement on October 30, 2013, he had received a total of seven death threats and telephone calls from unknown people.
Mr Nyamah, who has reported the matter to the Nima police for investigation, however stated that he needs no police protection.
He noted mobile numbers used by the callers, and their voice recordings had also been given to the police to investigate the matter and apprehend those behind the act.
Mr. Nyamah, who is also aspiring for the position of National Youth Organizer of the New Patriotic Party (NPP), said plans were far advanced to send to Parliament a formal petition to demand the impeachment of President Mahama per Article 69 of the 1992 constitution.
'Article 69 of the 1992 constitution gives parliament the mandate to remove a President from office whenever his conduct is prejudicial or inimical to the economy or the security of the state.'
Progressive Nationalist Forum on October 30, 2013 issued a press statement calling for the impeachment of President John Dramani Mahama over some corruption scandals such as SADA (45m), GYEEDA (200m), SUBAH (144m), ISOFOTON over $300,000 that have rocked the nation in recent times.
According to the group, Ghana has lost GH¢5billion through corrupt practices under the Mahama administration.
The group, in a statement said 'the Presidency of John Dramani Mahama is the worst thing that has happened to the fight against high level and institutional corruption in Ghana.'
The PNF therefore called on Parliament to, as a matter of urgency, commence impeachment proceedings to remove President Mahama from office for his alleged complexity in corrupt activities and lack of morale in the fight against massive corruption.
'Article 69 of the 1992 Constitution of the Republic of Ghana gives the mandate to parliament to remove a president from office whenever his conduct is prejudicial or inimical to the economy or the security of the state. One-third of all the members of parliament have the constitutional mandate to start the impeachment process and save Ghana from the abuse of our resources through corruption,' it said.
Citing the former Attorney-General, Martin A.B.K. Amidu, the PNF said the late President Atta Mills had cause to set up a Committee of Enquiry to investigate the acquisition of aircraft for the Ghana Armed Forces, led by the then Vice President John Mahama.
'This in effect was an investigation of corruption against a sitting vice president. The first-ever in the political history of Ghana. President Mahama has not responded to this allegation of suspicious transactions,' it added.
 By Linda Tenyah