Driver jailed 50 years for robbery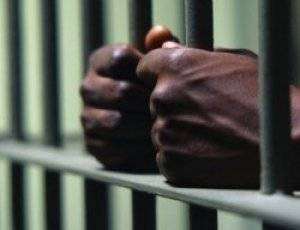 Jail Man
Tarkwa, Nov. 4, GNA - A Tarkwa circuit court has sentenced Prosper Sowalo, a driver, to 50 years imprisonment in hard labour for robbing an Opel Astra taxi from one Eric Boakye at Prestea Ankobra in the Western Region.
He was convicted on his own plea.
Prosecuting, Police Chief Inspector Oscar Amponsah told the court presided over by Mr. Samuel Obeng Diawuo that in the of September 8,  the victim was hired by Boakye who requested that he be sent to an illegal mining site near Prestea Akobra cemetery area, under the pretext of going to convey a  machine.
Inspector Amponsah said on reaching a spot on the road, Sowalo asked the victim to park the vehicle and follow him into the bush to help him carry the machine.
According to the Prosecution, some few meters into the bush the convict told him that his brother had taken the machine and so they should return.
Inspector Amponsah said just as the victim turned and was about to move, the convict picked a stick and hit him twice on his forehead and he became unconscious.
The prosecution said Sowalo took the keys of the vehicle, abandoned Boakye in the bush and took the vehicle away.
The Prosecution said the next day a witness in this case saw the victim lying in the bush and informed Mathias Akubal the complainant and owner of the taxi.
Inspector Amponsah said Boakye was taken to the Prestea Government Hospital and a report was made to the Police.
Inspector Amponsah said Sowalo took the taxi to Ho, changed the number plate, and gave it to another driver to work for him.
He said on October 17 personnel of the Motor Transport and Traffic Unit in Ho arrested the driver and impounded the vehicle.
The driver informed Sowalo who was arrested when he went to the Ho police station to claim ownership of the vehicle and transferred him to Prestea to face justice.
GNA