Kingsley Kyere wins 2013 Journalist of the year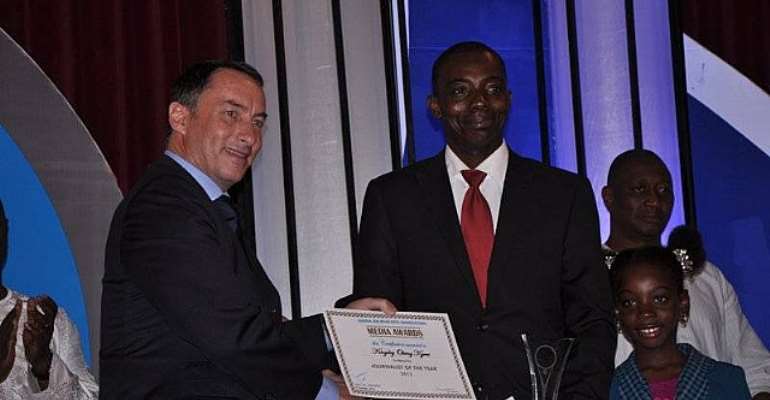 Managing Director of Unilever West Africa presenting the award to Mr Kingsley Obeng Kyere Accra, Nov. 3, GNA - Mr Kingsley Obeng Kyere of GBC Radio was on Saturday adjudged the Journalist of the Year for 2012 at the 18th Ghana Journalist Association (GJA) Awards ceremony held in Accra.
Mr Kyere also picked an award in Best Report on Science
Shortly after receiving his prize, Mr Kyere expressed appreciation to God, saying that, he takes consolation from the Word and appealed to the media fraternity to devote their heart and give their best in the field of work.
'I never relent on anything I did provided it is serving the needs of society and that the policy of development is my hallmark in the discharge of my duty', he added.
The GJA event was on the theme: 'Promoting Healthy Partisanship and Fruitful Partnership in Governance: The Role of the Media'.
Mr Mahama Ayariga, Minister of Information and Media Relations said government attaches importance to the freedom and independence of the media and is determined to step up development assistance to the media in a fair and transparent manner with the Media Development Fund.
He said the Ministry has proposed the establishment of a board of trustees made up of representatives of all major media bodies, including the National Media Commission to manage the fund.
He said the Ministry has demonstrated commitment to an open door policy, frequent engagement and technical support to the media. 
Dr Affail Monney, GJA President said one of the important indicators of free, fair and transparent elections is free, fair and unbiased media coverage and that this can be achieved through a sense of high professionalism on the part of the media practitioners.
Dr Monney said the rising political tension during the elections has confirmed the competitiveness of elections and their growing influence in the establishment of true democracy throughout the world.
He called for the passage of the Broadcasting Law to help regulate the broadcast industry as best practices require, and that, the GJA considers the passage crucial to promoting greater professionalism and democracy on the airwaves.
Below is the full list of the awards and winners
 
· Journalist of the Year: Kingsley Obeng Kyere (GBC Radio)
 
  Best Report in Radio: Kweku Owusu Peprah (Joy FM)
 
  Best News Reporting TV: Manasseh Azure Awuni (Multi Media)
 
 Best News Reporting in Print: Charles Benoni Okine (Graphic Business)
 
  Best Feature for Print: Edmund Kofi Yeboah (Daily Graphic)
 
  Best Feature in TV: Odelia Ofori (TV3)
 
· Human Rights: Funny Nana Ampong (GTV)
 
· Arts, Entertainment & Domestic Tourism: Rebecca Awiah (GTV24)
 
· Health: Rebecca Quaye (Mirror)
 
· Small & Medium Enterprises: Maxwell Akalare (Daily Graphic)
 
· Agriculture: Essabella Owusu Oppong (GTV)
 
· Environment: William Asiedu (Mirror)
 
· Development Journalism for furthering the MDGs: Afua Acquah Harrison (TV3)
 
· HIV/AIDS: Jamila Akweley Okertchiri (Daily Guide)
 
· Investigative Reporting: Kwetey Nartey (TV Africa)
 
· Education (Print): Seth Bokpe (Daily Graphic
 
· Best Media House for Democracy and Peace Building: Radio XYZ·
 
 . Best Report on Science: Kingsley Obeng Kyere (GBC Radio)
 
· Best in Political Reporting: Konrad Kakraba (GTV)
 
· Best in Photo Journalism: Emmanuel Quaye (Daily Graphic)
 
· Best Report on Sports: Dzifa Tetteh (Ghanaian Times)
 
· Best Report on Disability: Rosemary Gaizie (GBC Radio)
 
· Best in Rural Reporting: Gifty Andoh Appiah (Joy FM)
 
· Best Radio/TV Programme in Ga: Obonu FM
 
· Best Radio/TV Programe in Akan: Radio Peace in Winneba
 
 .Yong Promising Journalist: Hannah Acheampong (Junior Graphic)
 
 .Runner-up, Young Promising Journalist, David Adadevor.
 
An honorary award went to Mr Mawusi Afele, Cyril Acolatse, Wendy Asiamah, Tom Dokenu and for their commitment and contribution towards the development of Journalism. GNA