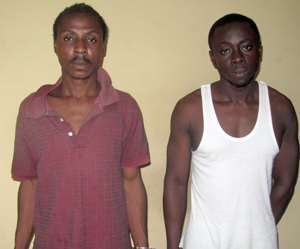 Felix Kito and Osei Nsafuah
Felix Kito and Osei Nsafuah
TWO PERSONS have been apprehended by the Sakumono Police Patrol team for stealing closed-circuit television (CCTV) cameras and provisions from a store at Red Bull in Sakumono.
The suspects whose names were given as Felix Kito, 28-year-old resident of Nungua and Osei Nsafuah, 25-year-old resident of Sakumono, were said to have broken into a car and a provision shop and made away with properties worth thousands of Ghana Cedis.
Superintendent Alex Wowolo, the Sakumono District Police Commander briefed DAILY GUIDE that on October 25, 2013 at about 2:00am, police received complaint about a burglary and personnel were dispatched to the scene.
According to him, the suspects made away with CCTV cameras and installation regulators from the car which was parked outside the house while the owner had gone to work.
He said the suspects, after breaking into the vehicle, broke into the store through the window and made away with some provisions.
After the incident, Superintendent Wowolo noted that the suspects hired a taxi and in the process of packing the items into the taxi, the police patrol team arrived at the scene and quickly arrested them.
He noted that on the subsequent day, owners of the properties lodged a complaint at the police station where they identified their items.
The police boss explained that the suspects would be arraigned when investigations into the matter were completed.
The Sakumono Police assured residents of the area and its surrounding communities of constant police protection to ensure that they are protected against miscreants, warning persons who engaged in criminal activities in the area to desist from such activities or face the law.
  From Vincent Kubi, Sakumono