DHL Targets West Africa For Growth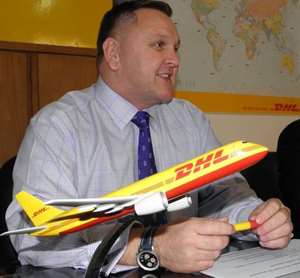 Charles Brewer
Leading international express and logistics company, DHL Express has identified West Africa, particularly Ghana as a key zone for growth within Sub-Saharan Africa.
Charles Brewer, Managing Director of DHL Express Sub-Saharan Africa, who revealed this at the Economist's Ghana Investment Summit 2013 in Accra said, 'I'm pleased to be able to speak at this conference and feel its fitting to have it in Ghana, considering the strategic importance of the country. Ghana has a particularly strong position in that it is well-situated to service West Africa, and like its East African counterpart, Kenya uses English as its language of business and dialogue. This makes it attractive for global companies looking for a regional hub.'
Ghana, alongside Nigeria, is one of the largest markets for the logistics operator in West Africa and well-poised to continue its dominant role.
It is often cited as one of the fastest growing countries in the world, and according to the local national statistics office, grew 6.1 percent in the second quarter of 2013 on track for a provisional full-year growth of 7.4 percent.
The Ghanaian Business Unit of DHL Express has seen phenomenal growth over the last quarter, posting positive volume figures and increasing its retail and account business.
'We have been very pleased with our progress over the last quarter; which is both a reflection of the country's economic development but also of our employee's passion for the business and taking it forward,' said Kader Coulibaly, Country Manager for DHL Express Ghana.
Coulibaly said his outfit was working hard to increase connectivity for SMEs to help them to understand the paperwork, legislation and expertise needed to grow beyond Ghana's borders.
'We know the challenges for these businesses - access to finance, resources and talent. At DHL, we are trying to do our part, boosting imports and exports and therefore increasing their attractiveness to both West African and global businesses.
DHL, a global network in more than 220 countries and territories and about 285,000 employees worldwide, offers customers superior service quality and local knowledge to satisfy their supply chain requirements.
DHL undertakes its social responsibility by supporting environmental protection, disaster management and education.
It is part of Deutsche Post DHL, which generated revenue of more than 55 billion Euros in 2012.
A business desk report