Kwaku Bonsam For Parliament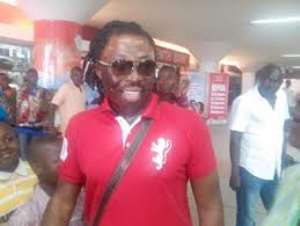 The renowned fetish priest, Nana Kwaku Bonsam, has told The Chronicle in an exclusive interview in Sunyani that he would be vying for the Offinso North Constituency parliamentary seat in the 2016 parliamentary election, as an independent candidate.
According to him, he decided to contest and enter parliament after realising that politicians had taken Ghanaians for granted.
He noted that the economic situation in the country was unbearable for the populace, and that the political leaders seemed not to have an antidote to it, but rather use their positions to enrich themselves to the detriment of the people.
'We are suffering; things are difficult, but the leaders are not concerned about the situation, and when you complain, they would ask you to leave if you think the kitchen is too hot for you,' Nana Kwaku Bonsam noted.
'I am not going to parliament to enrich myself, but to fight for my people and against corrupt and greedy politicians in the country, who now own all the fuel filling stations and fuel tankers in the country,' he noted.
He stressed that the current economic hardship, and crop of corrupt and greedy political leaders in the country, had forced him to contest Offinso North, come 2016, to help check those selfish and greedy political leaders, who are dispassionate about the plights of the people.
Revealing how he was going to check corrupt and greedy politicians, Nana Kwaku Bonsam said he would enter Parliament House with a charm and an itchy substance (Apia) to punish any politician who appears before the house with corrupt deals.
'People should not get me wrong; I don't belong to any political party, but have my own, which is the Traditional People's Party (TPP), which, hopefully, would be registered to become a fully-established party soon.
On his mode of communication in Parliament when given the chance, Nana Kwaku Bonsam said he would speak his local language, but would sometimes try to speak English, though he was not currently fluent in the English language.
'I would not be mum because I can't speak good English, I would be very vocal to fight for my constituents and the entire Ghanaian population,' he noted.
He continued that some MPs, who claim to be well educated and could speak the English language better, cannot even speak on the floor of Parliament, but have to stay in Accra, and only visit their constituencies during vacations with footballs and jerseys to organise soccer galas for the people as a form of deceit.
Nana Kwaku Bonsam warned politicians to be careful, or else, they would soon face the wrath of his gods, because the economic situation currently was unbearable.
According to him, everything was set for him to be in Parliament come 2016, recounting some of his benevolence and achievements in the Offinso North constituency.
He said over 1902 students within the area were enjoying free senior high school education under his sponsorship, apart from assisting people to pay their hospital bills, adding that the Afrancho police station came into existence through his efforts.