Shots fired at Egypt tourist hotel, no one hurt: ministry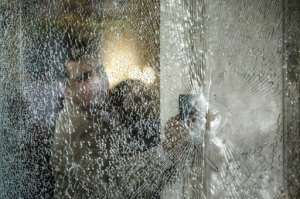 An Egyptian forensic expert inspects a bullet riddle window at the entrance of the Three Pyramids hotel in Cairo's al-Harm district on January 7, 2016. By Khaled Desouki (AFP)
Cairo (AFP) - A gang of youths hurled fireworks and fired birdshot at police guarding a hotel near Cairo's pyramids Thursday where Arab Israelis were staying without hurting anyone, officials and witnesses said.
The motive for the attack on the Three Pyramids Hotel was unclear.
The interior ministry said unknown assailants had gathered outside the hotel and carried out the attack, which it said targeted police guarding the hotel, who fired back.
One of the attackers was arrested, it added.
Hotel employee Yasser Fakhreddin said "15 to 20 young persons wearing masks threw fireworks and fired birdshot at the glass facade of the hotel as well as the windows of an empty bus waiting to pick up the Arab Israeli tourists".
A security official who declined to be named said 40 Arab Israelis had been due to board the bus but were still inside the hotel when the attack took place.
An AFP photographer said bits of the facade and the bus's windows had been broken.
Egypt, which has fought several wars with Israel, is one of only two Arab nations, along with Jordan, to have signed a peace treaty with the Jewish state.
The country has been roiled by mainly jihadist violence since the army ousted Islamist president Mohamed Morsi in 2013. However, the attacks, many of them deadly, have focused on security forces in reprisal for a fierce crackdown on Morsi supporters.
The attack came as the country's Coptic Christian minority was celebrating Christmas. Police have been out in force across Egypt to protect churches during the holiday period.