'Make Ghana hub of tourist attraction'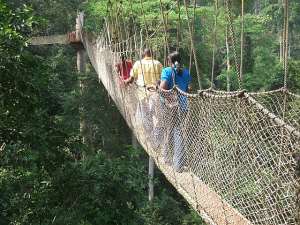 The President of the Ghana Tourism Federation (GHATOF), Mr David Nana Anim, says it is time to promote Ghana as the hub of tourist attraction in West Africa.

"Ghana is in a strong position to market itself as the hub from where tourists from Europe, North America and East Asia will be brought to the western coast of the continent, presenting the unique strengths of the various West African nations in one package," he said.
Mr Arhin was briefing journalists in Accra after he had led a five-member delegation of the federation to Nairobi, Kenya, for a 10-day visit. The visit was at the invitation of the Kenya Tourist Board, with the support of Kenya Airways.
Kenyan example
Nana Anim cited the example of Kenya which had launched a multiple-destination package for tourists in East and North Africa.
Describing it as a one-stop package, he said it enabled the tourist, on a single ticket, to experience the wildlife of the East African country, as well as the pyramids and Arab culture of Egypt.
In Ghana, "it should be possible for our tour operators, travel agencies, hoteliers and car rental groups to team up with the airlines to sell West Africa," he said, and suggested that "for a start, we could promote multiple destinations to Ghana, Togo, Burkina Faso and the Republic of Benin".
Collaboration
Nana Anim underscored the importance of public-private sector collaboration in the industry, pointing out that where the strength of government failed, the private sector could step in. By the same token, there were other areas which needed official government facilitation, where the government should be seen holding the hand of the private sector to open certain doors.
He called for increased budgetary allocation to the tourism sector, describing as regrettable, situations in which "Ghana is left without marketing tools such as brochures and flyers at major exhibitions.'
The GHATOF president described as enlightening, the delegation's exposure to the Kenyan private sector's method of service delivery, adding, "If there is one thing we took away from Nairobi, it is the tourism practitioner's way of making the tourist feel welcome."
The delegation took part in this year's "Magical Kenya Travel Expo" organised by the country's tourist board in collaboration with the private sector. The expo attracted 150 countries. This year's expo was used by the country to reassure the international community of peace in Kenya, after the recent terrorist attack on the country.
The Ghanaian private sector tourist practitioners had bilateral meetings with the Kenya Association of Tour Operators (KATO), the Kenya Association of Hoteliers and the Kenyan Tourism Federation, and others.
Daily Graphic/Ghana