NDC Activist Drown At Axim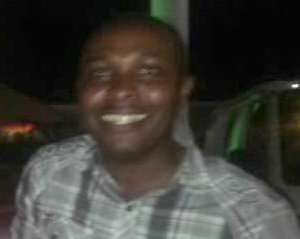 Eben Duncan
A fun outing to the Axim Beach Resort with friends last Sunday turned fatal for an NDC youth activist in the Central Region, Eben Duncan who drowned in the sea.
DAILY GUIDE gathered that Eben Duncan got drowned last Sunday afternoon at Axim beach in the Western Region when he went swimming.
According to sources, the vociferous NDC youth activist was among holidaymakers who had thronged the beach to have fun. Information available to DAILY GUIDE indicated that the lifeless body of the deceased, a brother of NPP's Central Regional Secretary, Kwamena Duncan, was washed ashore on Monday with parts of the body mutilated. It was not clear the circumstances that led to the death of the young man.
He could not be located on Sunday until the sea returned the body on Monday.
Initial reports were that the deceased was part of a team dispatched to the area for a meeting with some party activists held with the Nzema East Municipal Chief Executive, James Baidoo in Axim, last Saturday before the unfortunate incident occurred on Sunday.
Sources had it that after the meeting, Eben allegedly went to lodge at the Axim Beach Hotel and decided to swim in the sea on Sunday but got drowned in the process.
However, when DAILY GUIDE contacted the MCE for Nzema East, James Baidoo, he just remarked, "What you are saying is not true."
He was unwilling to provide any information about the circumstances surrounding Eben's death.
Meanwhile, another source at the ancient fishing town of Axim told DAILY GUIDE that Duncan allegedly got drowned when he went swimming at a friend's birthday party.
From Emmanuel Opoku, Takoradi