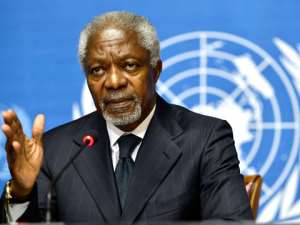 .....More transparent company ownership will help end the cycle of collusion and corruption involving foreign companies operating in Africa
GENEVA, Switzerland, October 31: The Africa Progress Panel welcomes today's announcement by UK Prime Minister David Cameron that a central register of company ownership, announced at the G8, will be public. This is a great step towards more transparent ownership of companies and will have positive consequences for African nations.
As our Panel Chair, former UN Secretary-General, Kofi Annan, noted in this year's Africa Progress Report, non-transparent company ownership too often facilitates the concealment of morally questionable transactions involving foreign companies. These transactions include illegal payments and tax-avoiding revenue streams. Our report, "Equity inExtractives – Stewarding Africa's natural resources for all", highlighted five deals in the Democratic of the Republic of the Congo, which together cost the country an estimated US$1.36 billion, through the systematic undervaluation and sale of state-owned mining assets to anonymous offshore companies. This is an amount equal to twice the combined annual health and education budgets.
Multilateral action to regulate the activities of foreign companies is critical. Prime Minister Cameron's announcement at the OpenGovernment Partnership meeting today moves the world closer towards correcting a major injustice.
The Panel notes the potential complexities and challenges of implementation, and the need to include trusts in the public registry, but commends British Prime Minister David Cameron for his leadership. The Panel hopes – and expects – this UK example will be followed by Britain's overseas territories, crown dependencies, and G8 partners such as the United States and Germany. This could have major benefits for Africa's resource rich countries, whose people have not benefitted enough from the mineral wealth beneath their soils and waters.
*******************
Chaired by Kofi Annan, former Secretary-General of the United Nations, the ten-member Africa Progress Panel advocates at the highest levels for equitable and sustainable development in Africa. The Panel releases its flagship publication, the Africa Progress Report, every year in May.
For further information, please contact:
Edward Harris – [email protected]
(mobile) +41 (0) 79 873 8322 and (direct) +41 (0) 22 919 7536
www.africaprogresspanel.org
http://www.facebook.com/africaprogresspanel
@eh3138 @africaprogress