Gyan-Apenteng Judged Media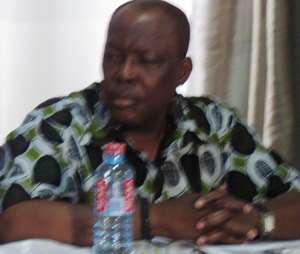 Kwesi Gyan-Apenteng
A VETERAN journalist and member of the National Media Commission (NMC), Kwesi Gyan-Apenteng, has sounded the alarm on the political imbalance of today's Ghanaian news media, which he said played out during the 2012 election petition proceedings at the Supreme Court.
He observed that while the broadcast media gave dimensions to reportage of proceedings, many of them made slant the staple of their reports, reflecting the biases and shortcomings of the media.
Speaking at a media forum in Kumasi, Mr Gyan-Apenteng was, however, quick to add that the media did a good job in the overall effect for accurate reportage despite the technical nature of the court proceedings which lasted for eight months.
The forum, which was organized by the Media Foundation for West Africa, was held under the theme: 'The Media's Coverage of the 2012 Election Petition Adjudication: Successes, Challenges and the Way Forward'.
The NMC member identified weak planning as one of the factors that kept the media away from analysis and running commentaries during the proceedings, asserting that 'good journalism questions, presents all sides and provides context.'
He called on media practitioners to engage experts for the post-verdict discussions to enrich the debate for development.
Dr Maurice Ampaw, President of the Legal Advocacy Foundation, said the media's presence at the courtroom brought about judicial accountability to bear on the proceedings, indicating that publicity was the very soul of justice.
According to him, Article 126 clause 3 of the 1992 Constitution and Order 11 (CI 47) guaranteed the right of journalists to cover the proceedings.
The Legal Advocacy Foundation President stated that media reportage on the legal contest case was quite revealing and interesting as accuracy and truth became easy casualties in some cases.
Dr Ampaw recommended contemporaneous reporting, fact, truth and accuracy for court reporters in order not to fall prey to contempt of court, which he observed, was not well codified.
Prof Kwame Karikari, Executive Director of MFWA, gave the overview and highlights of the organisation's project on language monitoring on 26 selected radio stations across the country.
He indicated that when the whole adjudication process started, indecent expressions were relatively high.
He said the combined effects of the Supreme Court's punitive actions on contempt issues, the general calls for peace by civil society groups and the MFWA's language monitoring exercise helped in reducing indecent expressions on the airwaves.
'However, after the verdict, the use of indecent expressions went up again. The continuous naming and shaming and the general sensitization through radio and TV interviews helped in bringing the situation down,' he observed.
From Ernest Kofi Adu, Kumasi