Indiscipline Is Societal Menace – Awuku Bram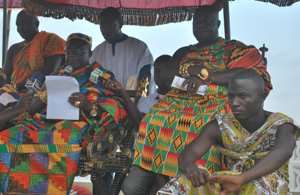 Nana Awuku Bram I presenting his speech and flanked by Aburimanhene Nana Otoobour Djan Kwesi I RIGHT and Tufuhene Okatakyie Ofosu Yeboah LEFT
THE REGENT of Dawu, Nana Awuku Bram I, has said that there is a general trend of indiscipline among many children and the youth in recent times.
Nana Awuku Bram I said this in his welcome address to the people of Dawu in the Akuapem North Municipal Assembly of the Eastern Region during a durbar to climax their annual Ohum festival.
The festival was under the theme: 'Enhancing Our Cultural and Traditional Values'.
Nana Awuku Bram, who is also the Kyidomhene of Dawu said most children and youth engaged in drug use, prostitution and many other social vices.
Nana Awuku Bram urged concerned members of the society to take steps to speed up development in the area. He added that the police also should intensify their patrols along the Akuapem Ridge to flush out the activities of criminals.
He further appealed to teachers and members of the clergy to make it a part of their personal intervention to address issues bordering on children's welfare because they are the future of the nation.
He praised the Eastern Regional Minister, Helen Ntoso, for what he described as worthy intervention to unite the chiefs and people of Akuapem.
The Assistant Director at the Akuapem North Municipal Assembly, Dora Kpodo, who read a speech on behalf of the Municipal Chief Executive (MCE), George Opare Addo, commended the chiefs and people of Dawu for celebrating this year's Ohum festival in harmony.
He urged the chiefs and other custodians of Ghanaian cultural heritage and traditions to sustain those aspects of the culture which promote national cohesion and development.
The patron of the Dawu Teachers and Students Motivation Fund, Prof Edwin Akonno Gyasi, said the fund was set up by the chiefs and people of Dawu to among other roles, highlight the importance of formal education.
He continued that the fund which is the brain child of the Assembly man of the town, Amo Larbi, seeks to providing scholarship to needy but brilliant children across the community.
 By Solomon Ofori