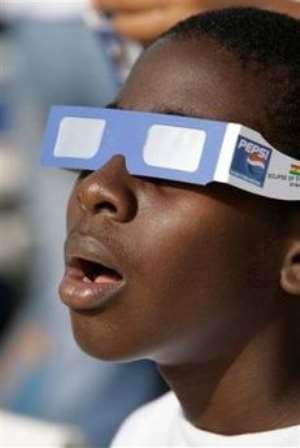 At exactly 1.22 p.m. on Sunday, November 3, 2013, Ghana and other parts of West Africa will experience a partial solar eclipse.

The phenomenom, described as 'the romance between the Sun and the Moon,' will be expected to start at 11.38 a.m. until 1.22 p.m. before it gains the full face of 85 per cent of the Sun.
A former Executive Director of the Centre for Remote Sensing and Geographic Information Systems (GERSGIS), Professor Emmanuel Amamoo-Otchere  Snr, speaking in an interview explained that a partial solar eclipse is one where there was a maximum partial cover of the Sun by the Moon.
'Barring any rainy or cloudy weather, Ghanaians would witness the normal afternoon sunny light, being dimmed to evening for about one-and-half minutes, when the face of the Sun will be covered 80-85 per cent by the Moon,' he said.
On March 29, 2006, the last time Ghana experienced an eclipse, it was a total eclipse, which caused complete darkness for three minutes.
Precaution
Professor Amamoo-Otchere warned of severe consequences, which could result in permanent blindness of any person trying to watch the phenomenom without the eclipse shades or sunshades.
'The ray from it is destructive. It contains harmful rays which can destroy the tissue of the eyes. The only way is to get eclipse shades which cuts off the harmful ray of the sun,' he warned.
Professor Amamoo-Otchere said in the absence of the eclipse shades or sunshades, people could watch the eclipse in a bowl of water in an open space where the phenomenom would be reflected in the bowl of water.
He said sensational as the phenomenom would be, people should be careful not to risk damaging their eyes.
Advertisement
Professor Amamoo-Otchere warned that the critical time would be when the shadow had come and pass. 'Some who did not get the shades would love to watch to see what had happened. This could also lead to permanent impairment.'
Spiritual dimension
Giving the phenomenon a spiritual dimension, he dated eclipse of the Sun to the days of Jesus Christ when on Good Friday, around 3 p.m., it was reported that, when Jesus was about to die, 'there was darkness over the whole land until the ninth hour.'
Professor Amamoo-Otchere interpreted the eclipse to mean that, 'our society is becoming too negative', adding that the eclipse was a sign that Ghanaians must emerge from persimisism and think positively.
In marriage life, he said, 'if the Moon is playing romance with the Sun and if your marriage requires repairs go and repair it. Let the shadow that passes over you, claim reconciliation between you and your partner. Indeed, wherever there is a discord between you and another person, repair it with the passing of the shadow over you'.
Professor Amamoo-Otchere recommended that  after the event, the family should go out and have a lunch. In fact, 'let it be a family issue.'
By Severious Kale-Dery/Daily Graphic/Ghana