Hearts Striker Fiamenyo Apologises For Tribal Comment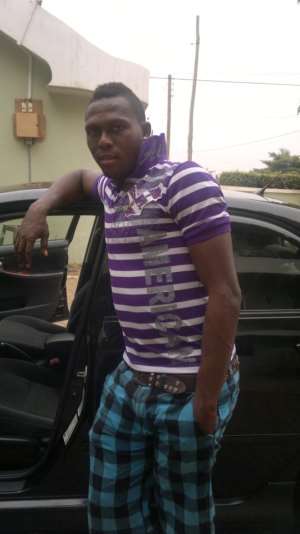 Gilbert Fiamenyo
Hearts striker Gilbert Fiamenyo has apologized for making tribal comment against referee Yao Ametepey during their Premier League game at Ashantigold. 
The 22-year-old sparked tribal row on Sunday when he labeled the centre referee as a 'disgrace to Ewes' following their 1-0 defeat at Ashantigold.
The former Heart of Lions attacker was unhappy with the performance of the referee and called his ethnic background into question.
But Fiamenyo has eaten humble pie by issuing a groveling to the referee, pleading his innocence.
"I never, ever used this word in a derogatory way and if it offends anyone then I want to apologise for that," Fiamenyo said
"I never spoke with him (Ametepey). I was speaking to a journalist who apparanetly recorded what I said.
"It was not meant to be insulting and like I said if anyone  is offended by that, I am very sorry. It won't happen again."
The bulky striker could be hauled before the ethics committee after Ashantigold chief Executive Kudjoe Fianoo revealed he will report the conduct of the player to the Ghanaian FA.