Ayikoi Otoo says Ghana's democracy thrives on principles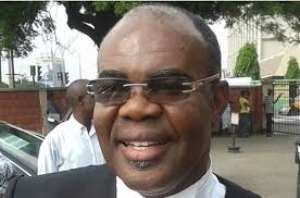 Mr Ayikoi Otoo
Accra, Oct 29, GNA - Mr Ayikoi Otoo, a former Attorney-General and Minister of Justice, has said the success stories of the nation's democracy wre based on firm legal framework and principles of understanding.
He said the 1992 Constitution provides clear direction and guidelines on how political parties should be formed and operated devoid of any discrimination, sectionalism, regionalism or ethnicity.
He said the Constitution contained both enshrined and entrenched provisions that had helped to overcome some of the antecedents of how political parties formed on sectionalism had created disunity among Ghanaians.
Mr Otoo made said this at a workshop on exchange visit of Malawi and South Sudan under the theme: 'Issues-based and ideologically founded Party Politics.'
The workshop, organised by the Institute of Economic Affairs (IEA) in collaboration with the Netherlands Institute for Multiparty Democracy, served as a peer exchange visit to facilitate knowledge-sharing between the leadership of political parties in Ghana and their South Sudanese and Malawian counterparts.
The visit was also an opportunity for Malawian and South Sudanese political parties to learn how political parties in Ghana have embraced issue-based politics and built on their ideological orientation.
Mr Otoo said everything about Ghana's political parties are national in character right from the parties' symbols, emblems, constitutions and election of national and local officers.
For example, he said, parties' executives or founding members are regionally and culturally balanced while emblems and symbols did not have any tribal or religious or sectional connotation.
Mr Otoo said political parties also have elaborate manifestoes that contain wishes and aspirations of the ordinary people but added that though it had not got to the stage where many persons understand the issues because the language sometimes is too technical.
He added that Ghanaians also have some kind of unwritten understanding on the tenure of office, where the National Democratic Party and the New Patriotic Party have served on two consecutive terms.
Dr Ransford Gyampo, Research Fellow at IEA said, for example, in Malawi: 'it is difficult for most political parties to justify their existence beyond serving as mere election machines and vehicles for contesting state power once every five years.'
He said the situation becomes more apparent during electioneering campaigns where political parties fail to envision a world that they would aspire for and articulate means and strategies for attaining social, economic and political ideals through their defined policy alternatives.
Mr Levson Ganiza, Secretary-General of the Malawian Forum for Unity and Development, said the forum was an opportunity to adopt the best practices of Ghana's political parties and implement them ahead of the local elections next year.
GNA