'Low rainfall won't affect power production'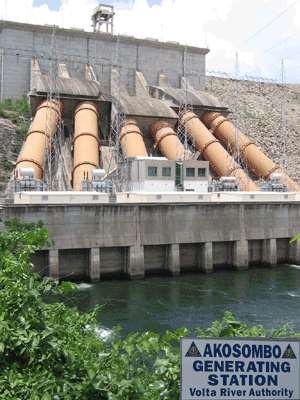 The low rainfall pattern recorded this year would not affect power production at the Akosombo Hydroelectric Dam, the Volta River Authority (VRA) has said.

Officials say the water level, which stood at 260.75 feet on October 28, 2013 as against 270.60 recorded at the same period last year, would pose no threat to hydro power generation in the 2014 fiscal year.
The Public Relations Manager of the VRA, Mr Sam Fletcher, told the Daily Graphic in Accra that the water level in the dam was within the authority's operational limit of a minimum of 245 and a maximum of 278 feet respectively.
'If our generation is solely dependent on only hydro, the drop in the water level and the low rainfall pattern might have posed a great danger,' Mr Fletcher said.
He said that looking into 2014/15 fiscal year, there was the need to protect the dam since electricity production drew a record high of 7,100 gigawatts hours (gwh) in 2012 as against 5,300 gigawatts hours which was supposed to be the case.
'We must be able to cut down on the number of gigawatts hours to be able to protect the dam, as its going into crisis may require that we resort to thermal generation, which is an expensive venture,' Mr Fletcher said.
He further noted that while the VRA currently contributed 83 per cent of the country's total generation, the figure would be expected to drop to 75 per cent at the end of 2013 when all the units of the Bui Hydro Plant were inaugurated.
Challenges
Mr Fletcher said that inadequate generation capacity reserve and the lack of gas supply continued to limit thermal generation, thus posing a challenge to efforts being made to increase the current total national electricity capacity of 2,546.5 megawatts.
The VRA, Mr Fletcher said, was undertaking more generation projects, and had plans to add about 1,000 MW of generation capacity over the next five years.
By Della Russel Ocloo/Daily Graphic/Ghana