Ghana to be focal point of business for German private sector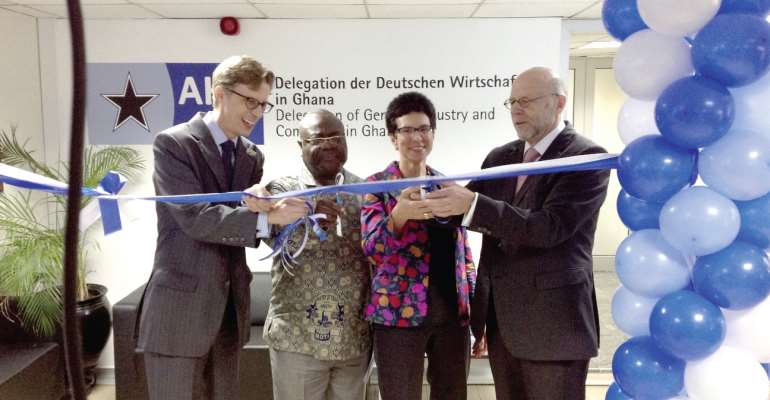 The German government says it will help to make Ghana the 'focal point for roaring economic activities' for German and European businesses.

The State Secretary at the Foreign Office, Dr Harald Braun, who made the declaration in Accra on October 24, said Germany and its businesses were interested in the growth of Africa, and Ghana was a beacon of that growth that was sweeping across Africa.
Dr Braun, who was in Ghana at the head of a business delegation for a two-nation tour, said this at the official inauguration of the office of the Delegation of German Industry and Commerce (AHK), located on the mezzanine floor of the World Trade Centre on the Independence Avenue.
AHK represents German business interests in Ghana and advocates Ghanaian-German business cooperation. The business promotion office offers comprehensive services and features the member organisations for the German business community in Ghana.
There are about 100 German businesses operating in various sectors of Ghana's economy.
The German state secretary expressed the hope that with the rising volume of bilateral trade between the two countries, more German businesses would seek to harness opportunities in Ghana as Ghanaian businesses took advantage to export and invest in Germany.
Trade between Ghana and Germany grew by 40 per cent last year, with the imbalance, which was always widely in favour of Germany, narrowing slightly. Ghana's exports now account for 40 per cent of the trade volume, valued at €1.25 billion.
Dr Braun said AHK would work to meet the expectation of German companies as demonstrated by its flagship programme, the West Africa Clean Energy Exhibition and Conference (WACEE 2013), slated for November 12-14, this year.
Already, about 45 companies have registered to participate in the fair.
The Chief Director of the Ministry of Trade and Industry (MOTI), Nii Ansah-Adjaye, said Ghana would implement its industrialisation policy as part of its growth, as well as private sector development strategy, adding that German and European businesses should take advantage of the country's stability and peace to invest for good returns.
Nii Ansah-Adjaye said the government would seek the cooperation of Germany in private sector development and entrepreneurship.
The country is also seeking to increase the export of non-traditional products to Germany. The products would include clothing and textiles, medicinal plants and artifacts.
Currently, Ghana exports cocoa beans, tuna and fresh fruits to Germany, one of the largest trading allies of Ghana.
By Samuel Doe Ablordeppey/Daily Graphic/Ghana