Bamboo Centre to empower youth to sustain rural economic growth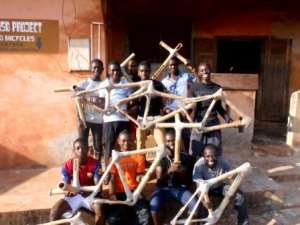 Ghana can take advantage of the abundant bamboo raw materials to provide inexpensive transportation and products while creating environmentally sound cottage businesses.
The Yonso Project, a rural community development initiative, is setting the pace with the establishment of the Bamboo Centre at Apaah in the Mampong Municipality of Ashanti to train young people in bamboo development.
The Centre empowers the youth to manufacture high quality multipurpose bamboo products that are suitable for use everywhere in the world, including handcrafted bamboo bike frames, hand bags, purses, sandals and table mats.
The Bamboo Center addresses the quadruple problems of climate change, poverty, rural-urban migration and high unemployment amongst the youth in rural Ghana by creating employment opportunities and sustainable livelihood job skills for the youth.
"The intention is that we try to create jobs in the rural areas so that people don't migrate to the cities where they don't even get the jobs that they are seeking; so we try to create the village cottage industries where they can make very good business," stated Kwabena Danso, Executive Director of the Project.
The Yonso Project works to improve educational and economic opportunities to alleviate poverty.
To sustain educational development programmes in the rural community, the Project invests 50 percent of sales from the bamboo products in educational scholarships and library project in the community.
The Project is also rolling out a concept dubbed "the Village Bicycle Woman" under which women in the rural areas will be trained in bicycle repairs and maintenance and then supplied with bamboo bicycles for rentals.
"So students can use these bikes to school, farmers can use the cargo bikes to go to their farms to make the bikes more accessible to the rural folks", said Mr. Danso.
In addition to its export market, a hire purchase scheme has been instituted to afford the local folks opportunities to own the bamboo bicycles.
Mr. Danso is confident an upscale of the bamboo project will create sustainable cottage industries that are economically and environmentally relevant to the rural economy.
Story by Kofi Adu Domfeh