NDC Organiser Blasts Civil Servants Over Lotto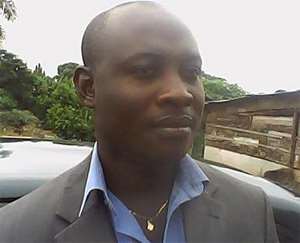 Kwaku Boahen
The outspoken NDC official insisted that some civil servants 'check lotto numbers in their offices during working hours.'
He also slammed some teachers who he said exploit their pupils 'all in the name of extra classes.'
Mr Boahen also accused medical officers of closing early in public institutions just to make money in their private clinics.
The Ashanti Regional NDC Youth Organizer noted that Ghana was not developing as expected due to the conduct of government workers.
'All these acts are going on in the country because the government's monitoring system of workers is very weak, according to him.
Speaking to Kofi Asante of Nhyira Fm, a radio station in Kumasi, Mr Boahen said 'lazy workers' had adopted strike actions to express their grievances.
He observed that the leniency of the ruling NDC government had encouraged the workers to embark on strike actions recklessly.
Mr Boahen, who failed to provide evidence, alleged that the New Patriotic Party (NPP) was responsible for the numerous industrial actions being undertaken by civil servants in recent times.
He called on the Mahama-led administration to crack the whip on civil servants, who would behave waywardly during working hours.
If the government intensifies the monitoring of civil servants, especially during working hours, several nation-wreckers would be caught and punished, he noted.
The NDC organizer, who is also a teacher, alleged that some teachers force their pupils to buy their products such as toffees in class.
Something ought to be done about the weird behavior of some civil servants, who are breaching the law. Such unpatriotic people need to be corrected to do the right thing. Some government workers are very lazy and their output for their various organizations and institutions is very low, yet they are paid every month from government coffers, he indicated.
 FROM I.F. Joe Awuah Jnr., Kumas i