KNUST Student Dies From Poison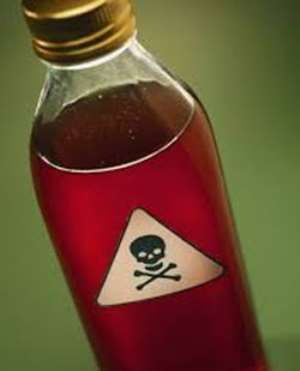 Dr. Menya Mensah, Medical Superintendent of New Edubiase Government Hospital, said Michael Kontoh, 28, from Freso in the Bosome-Freho district of Ashanti Region, was brought to the hospital unconscious around 6am.
 
Examinations showed Kontoh had poisonous drug content in his blood, which his relations claimed the young man took on the campus of the university, the Medical Superintendent added.
Dr. Mensah said all his organs were totally poisoned at the time he was brought to the hospital and was pronounced dead on arrival.
He narrated that an uncle of the KNUST student, who brought him, said the deceased complained of abdomenal pain and confessed later to having drunk a poisonous substance upon interrogation.
 
According to the medical officer, the family could not tell why the student took the poison, and had, therefore, reported the case to the police for investigation.
Kontoh's death has become a devastating loss for people that knew him and shock to the family who could not speak on the incident to the media.
This is the second time in about two weeks that a student from KNUST had died in bizarre circumstances .
A 20-year-old Political Science student died two Sundays ago after he went  partying at the Barekese waterworks.
Gideon Afoakwa was taking pictures of himself in a boat on the dam when he slipped into the river and drowned on his birthday.
Eyewitnesses told DAILY GUIDE that rescue squads attempted to reach out to him following screams from his friend, but he went under the water before they could get to him and never surfaced again.
His body was not found until Monday morning and was later deposited at the St. Patrick Hospital at Offinso.
 From Ernest Kofi Adu, Kumasi