GHS Meets Polio Vaccination Target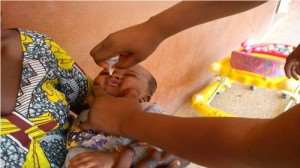 The Ghana Health Service in the Upper East Region has met its target in the just-ended Synchronised National Polio Immunization Round II. The service targeted 253,154 children in the exercise, but achieved 273,904, representing 108.2%.
Children 0-59 months, irrespective of their previous vaccination status, were vaccinated against polio. Alongside the polio vaccination, 226,372 children, from 6-59 months, representing 99.4%, were given also Vitamin A supplement.
The Upper East Regional Coordinator for the Expanded Programme on Immunisation (EPI), Mr. Ibrahim Saheed, who disclosed these in an interview with this paper, further said the Bongo District scored the highest figures on polio with 114.3% and Binduri District had the least, with 102.0%.
On the Vitamin A supplement, he said the Builsa South District attained the highest figures of 108.5%, while Bawku West District had the least, with 91.0%. The Coordinator was quick to add that all the 13 municipal/district assemblies met their targets, with most of them exceeding it.
Synchronised NIDs occur when two or more countries are conducting NIDs at the same time or simultaneously. The just-ended NIDs took place in all the West African countries, including Ghana and Burkina Faso among others.
Presently, three countries remain polio endemic – Nigeria, Pakistan, and Afghanistan. Fewer than 250 cases were reported in 2012, compared to 650 cases in 2011.
There were 1,298 teams, 2,596 volunteers, 260 team supervisors, 39 district supervisors, and 30 regional supervisors, who executed the exercise. There were also 2 monitors from the national level of the Ghana Health Service, and 2 representatives from UNICEF.
The exercise commenced on Thursday October 24, and ended on Saturday, October 26, 2013.
In similar NIDs that took place in June this year, the same regional target of 253,154 children was met, as all districts recorded above 100%, with the regional coverage of 104.6%.