Mahama inspects land for Ist SHS promised in 2012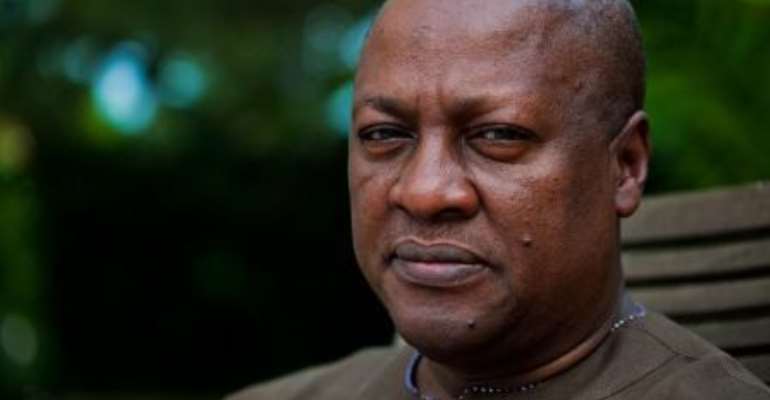 President John Dramani Mahama has affirmed his resolve to execute the educational and health projects he promised Ghanaians during the 2012 election campaign.
He said the government had just begun the implementation of its development agenda and was optimistic that by the end of the four-year mandate, the campaign promises would have been fulfilled.
He mentioned the construction of 200 community day senior high schools (SHS), 10 teacher training colleges, a public university in the Eastern Region, regional hospitals and clinics as some of the projects that the government would have started by the end of 2016.
President Mahama gave the assurance yesterday when he inspected a 200-acre land that the Odupong Traditional Area had released for the construction of a community day SHS in the Awutu-Senya East municipality in the Central Region.
The promise of the construction of 200 community SHSs was contained in the 2012 manifesto of the National Democratic Congress (NDC), and President Mahama gave his word to see the project through.
The pledge was to put up 50 community SHSs in deprived communities across the country every year to bring the total to 200 by the end of 2016.
 
Phase one
Consequently, 50 communities have already been selected to benefit from the first phase of the project scheduled to begin this year.
According to the project design, each school would have about  24 classrooms, a science laboratory, a library, offices for heads of departments, Information and Communications Technology (ICT) laboratory, headmaster's bungalows and a block of flats for eight tutors.
President Mahama said the government would mobilise the needed resources for the execution of the projects. He, therefore, asked Ghanaians to bear with the government and support it to achieve those goals.
He noted with concern that about 47 per cent of junior high school students had over the years failed to gain admission to further their studies because of inadequate vacancies in senior high schools.
President Mahama appealed to the beneficiary communities to willingly release land and other facilities for the execution of development projects in their respective areas.
The Paramount Chief of Ofaakor, near Kasoa, Nai Odupong Awushie Tetteh II, lauded President Mahama for fulfilling the promise to build the SHS in the municipality.
"I am so happy that President Mahama has walked the talk and I now want to believe that he will fulfill all other promises he made during the 2012 general election campaign," he added.
Mr Samuel Sarpong, the Central Regional Minister said government would continue to galvanise the support of development partners to provide basic amenities for all Ghanaians.
By Musah Yahaya Jafaru/Daily Graphic/Ghana