'Don't Tax Private Universities'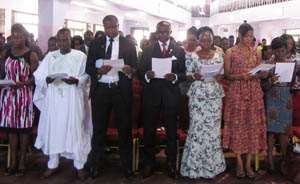 A section of the students at the matriculation ceremony
He believes the recent blanket imposition of taxes on private universities set up as non-profit making institutions was a misplaced priority.
Speaking at the 8 th  matriculation ceremony of GBUC in Kumasi on Friday, Rev Dr Osei-Wusuh was doubtful that government could add significant revenue to the national kitty by the tax imposition.
'That is why the decision must be rescinded to encourage private universities to develop faster for the benefit of the country's education,' he asserted.
The GBUC President said feeding on crumbs of foods caught in between the teeth does not present one with any realistic source of feeding oneself, arguing that the ultimate effect of the decision could only be inimical to the development of the country's education.
Rev Dr Osei-Wusuh disclosed that GBUC as a Christian institution had the vision to ultimately see to the graduation of students with unique wholesome education as a mark of excellence in not just being knowledgeable, skillful and competent, but also confident, responsible and disciplined future leaders of integrity.
'To that end, we have great expectation from our students primarily in line with the tenets of the pledge you have pronounced here today. Students are expected to remain credible members of the GBUC community by their lifestyles at all time.'
To the students, according to him, GBUC presented to them the opportunity to realize their life dreams to become what they wish for themselves.
'The opportunity has also presented itself at a great cost and sacrifice borne either personally, by parents or  some loved one,' Dr Osei-Wusuh pointed out and asked them to focus on their studies.
In all, 694 students, admitted to study courses in Marketing, Accounting, Banking and Finance, Human Resources Management, Entrepreneurship, and Theology, were matriculated.
The number is made up of 52.4 percent males and 47.6 percent females, Dr Ayim-Nyarkoh Amanfo, registrar of GBUC said.
According to him, out of the figure, 145 students were admitted to pursue Bachelor of Science, Business Administration with Accounting option, 54 students for Marketing, 49 students for Banking and Finance, 133 students for Human Resources and nine for Entrepreneurship.
The rest, Dr Amanfo added, were admitted to offer Diploma in Business Administration and Theology, among others.
 From Ernest Kofi Adu, Kumasi