Prez cuts sod for start of work at Assemblies of God church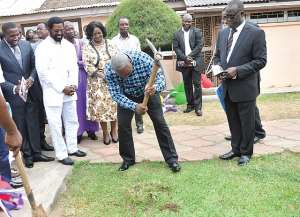 President John Dramani Mahama has urged Ghanaians to rally behind the national vision to propel the country's socio-economic development.
"Our vision is creating a nation of prosperity where our citizens will live in dignity and decency," he said.
President Mahama made the call yesterday when he cut the sod for the start of a church project at the Assemblies of God Church Ringway Gospel Centre in Accra.
The church is where the President and his family worship.
The GH¢1.2 million 1,000-capacity church project, to be constructed on the church's premises at Ringway, Osu, is expected to be completed by the end of 2014.
Also present at the ceremony were the Chief Justice, Mrs Justice Georgina Theodora Wood, the General Superintendent of the Assemblies of God, Ghana,Rev. Dr Paul Frimpong Manso, and the host Pastor of the church, Rev. Ernest Kwadwo Agyei.
President Mahama said building a new church was the same as building a nation.
For instance, he said, before putting up a building, the developer needed to first have the building plan.
'Likewise', the President said, "we must have a vision of what we want our nation to be."
President Mahama said God no longer intervened physically in the affairs of man but rather provided the opportunity for people to use and solve their challenges in life.
He said it was important for the people to have an objective and work towards achieving that objective.
The President urged the church members to contribute towards the church project.
Rev. Dr Frimpong Manso expressed exhorted Ghanians to use their time profitably.
He said the church was not in conflict with the government, but rather played a complementary role with the government.
By Musah Yahaya Jafaru/Daily Graphic/Ghana