Samsung Empowers Journalists With GALAXY S4 Zoom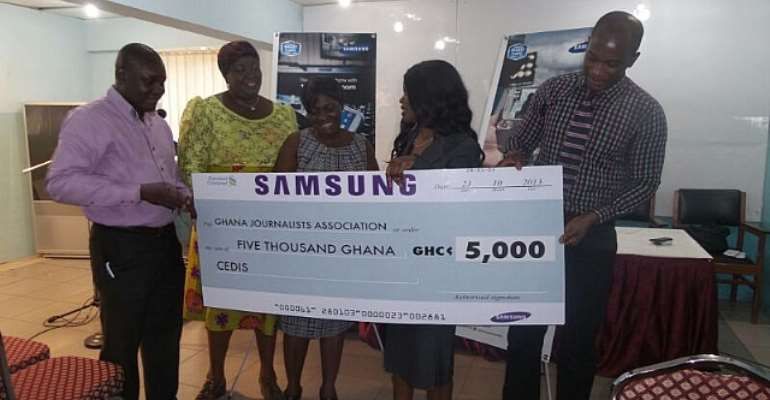 Accra, Ghana, 24thOctober, 2013 – Samsung Electronics Ghana has presented ten Galaxy S4 Zoom Smartphones worth GHC12,500 and an amount of GHC5,000 to the Ghana Journalists Association (GJA) as sponsorship for the 18thAnnual GJA Awards, in a short presentation ceremony at the Accra International Press Centre.
The Sales Director for Handheld products at Samsung Ghana, Ryan Na said the decision to sponsor the awards was influenced by Samsung's appreciation of the contributions of journalists towards the development of Ghana.
"At Samsung we believe in excellence, and support any effort though which it is recognized or rewarded. The GJA Awards have over the years done just that, and this has proven to be very relevant to the development of journalism in Ghana." Ryan noted.
"Samsung is and has always been a friend of the media and to reiterate our commitment to them, we have developed a tool to help lighten the work load of our journalists. Our new Galaxy S4 Zoom was designed with journalists and media practitioners in mind. With the new Galaxy S4 Zoom we hope our media men and women can now report the 'Smart way'". Ryan continued.
According to Ryan, as leaders in innovative technology, Samsung is proud to recognize how far the industry has evolved by adopting new technological advancement. He noted that, news travels faster today than ever, with increasing numbers in the online communities as journalists are able to keep us updated with events and reports from all over the nation and from across the globe with a click of a button. He also assured journalists that Samsung will continue to develop new and innovative ways and devices to make their work easier and smarter.
The Public Relations Officer of the Ghana Journalists Association, Mrs Mary Mensah and Mr. Rogking Clottey the Organizing Secretary of the GJA Awards who received the sponsorship on behalf of the association expressed their appreciation to Samsung, and called on other corporate entities to emulate their actions.
This year's GJA Award is scheduled to take place on the Saturday, 2nd November, 2013 at the Banquet Hall State House.
About Samsung Electronics Co., Ltd.
Samsung Electronics Co., Ltd. is a global leader in technology, opening new possibilities for people everywhere. Through relentless innovation and discovery, we are transforming the worlds of televisions, smartphones, personal computers, printers, cameras, home appliances, LTE systems, medical devices, semiconductors and LED solutions.
We employ 236,000 people across 79 countries with annual sales of US$187.8 billion. To discover more, please visit www.samsung.com
Ms. Christiana Adjetey, Product Manager At Samsung Ghana, Presenting The Cheque And Phones To Executives Of The GJA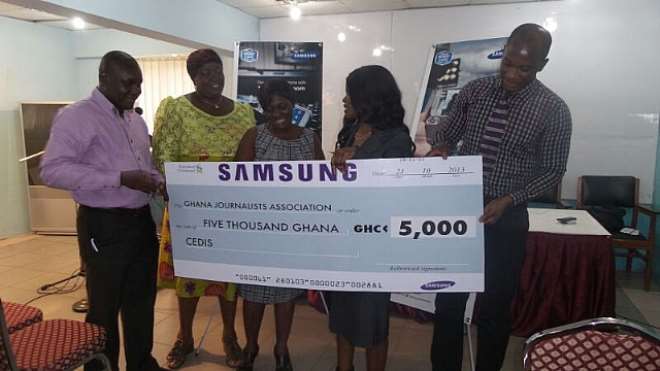 Ms. Christiana Adjetey, Product Manager At Samsung Ghana, Presenting The Cheque And Phones To Executives Of The GJA