Sudanese winner of Mackler Award vows to maintain struggle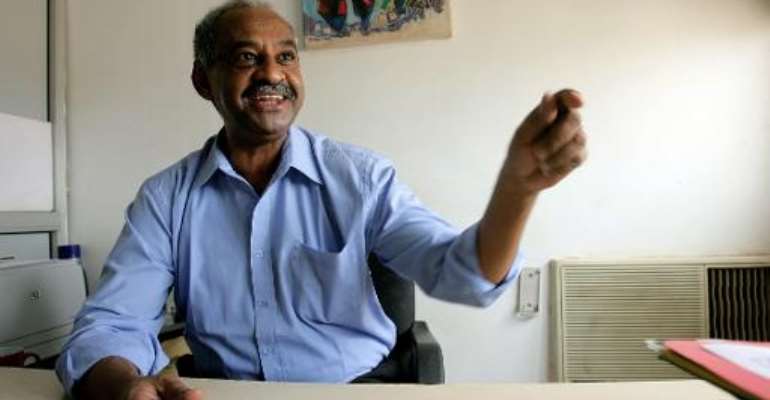 Washington (AFP) - Sudanese journalist Faisal Mohammed Salih vowed Thursday to keep up efforts to report freely despite "difficult and harsh" conditions as he received the Peter Mackler Award for Courageous and Ethical Journalism.
Salih, 53, accepted the distinction in Washington, and said it would encourage a free press in a nation where reporters are often harassed and intimidated.
The prize "is a great encouragement to the media in my country," he said after accepting the award at the National Press Club.
"It sends a signal that we are not alone."
Salih, a reporter, editor and columnist with the Al-Khartoum Daily, has been imprisoned for his criticism of the human rights record of his government.
"The media in Sudan operate in a difficult and harsh environment," he told the award ceremony.
"In spite of this, Sudanese journalists are not giving up. They are doing all they can ... we stand together and fight together."
Salih, who also teaches journalism in his country, said the media is tightly controlled in Sudan and that only some privately owned newspapers can report without censorship. But he said many journalists face detention or other forms of harassment.
He noted that some people are getting information from social media or websites operated from outside the country but added that "what the government is doing is hacking them" to shut them down.
Salih is the fifth recipient of the award named for the late Agence France-Presse reporter and editor Peter Mackler.
Delphine Halgand, director of the Washington office of Reporters Without Borders, commended Salih for having "the courage to refuse to be silent."
"We give a signal to all those in Sudan, we support you," she said.
Keynote speaker Princeton Lyman, a former US envoy to Sudan, also offered praise to Salih "for his determination to deliver the truth and the news," saying this "sends a message to his country and to the world."
Lyman said Sudan, which has been ravaged by years of civil unrest, needs a free press to promote "a free national dialogue" that can help end its crisis.
In an unusual moment, a representative of the Sudanese embassy in Washington in attendance welcomed the award despite the fact that its government was being harshly criticized.
"I congratulate you," said the woman, identifying herself as Amel Elsayed, first secretary at the embassy of Sudan.
Sudan is currently ranked 170th out of 179 countries in the World Press Freedom Index published by Reporters Without Borders because of its widespread use of intimidation and violence to censor journalists.
The Peter Mackler award rewards journalists who fight courageously and ethically to report news in countries where independent media is not tolerated. It is administered by the Mackler family in collaboration with Reporters Without Borders.
The award was begun in June 2008 to honor the memory of Mackler, who died of a heart attack that month at the age of 58.
The 2012 winner was Lukpan Akhmedyarov of Kazakhstan. Previous recipients were Karla Rivas of Honduras in 2011, Ilya Barabanov of Russia in 2010 and J.S. Tissainayagam of Sri Lanka in 2009.