Nigerien arrested for murder of compatriot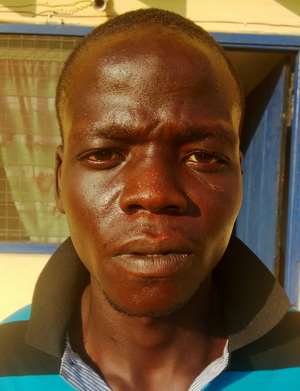 A 26-year-old unemployed Nigerien, Seidu Tahiru, has been arrested by the police at Sogakope in the Volta Region for the murder of one Abdulai Zakaria, also a Nigerien.

The body of Zakaria Seidu,26 a salesman was found in a decomposing state at Noklokpo, a suburb of Sogakope a day after he went missing. He had been stabbed in the neck and stomach with a sharp object.
The Sogakope District Police Commander, Superintendent Ayamga Akolgo who confirmed the arrest of Tahiru, told the Daily Graphic that the suspect has since his arrest, confessed to the crime and was helping the police in their investigations.
According to Supt. Ayamga, the victim closed from work on Friday, September 18 together with his elder brother from the mobile phone and clothes shop they operated at Sogakope.
Abdulai Zakaria who usually slept in the shop, was however, nowhere to be found on Saturday when his elder brother returned to open the shop, with the mobile phones, Jeans and Lacoste also looted.
Suspecting that his brother might have looted and bolted with the goods estimated at GH?20,000, he reported the matter to the police.
The next day however, the assemblyman for the Noklokpo area reported the discovery of a body at an unfrequented area which was later identified to be Zakaria. The murder weapon, a knife, was also found nearby.Abdulai Zakaria, deceased
It was after the discovery that the wife of Zakaria's elder brother (the shop owner), recalled seeing the suspect and the victim together in the evening of that Friday.
Superintendent Akolgo said Seidu Tahiru was traced to his residence at Nungua, near Accra, where he was found with about 200 pieces of the missing mobile phones as well as assorted Jeans and Lacoste from the looted shop.
Police also found a blood stained jeans in his room which he claimed ownership, and readily confessed to killing his compatriot to enable him take away the goods.
Another Nigerien trader, a woman, also reported that Seidu Tahiru had on that fateful Friday, deposited some phones and clothes with her and claimed he had been attacked by armed robbers who had wanted to dispossess him of his goods but he managed to overcome them. She recalled seeing him with blood stains in his clothes.
The suspect is in the custody of the police at Sogakope.
By Isaac Yeboah/graphic.com.gh/Ghana