Brigadier General Joseph Nunoo Mensah Position Not That Of NDC—Young Democrats Reiterates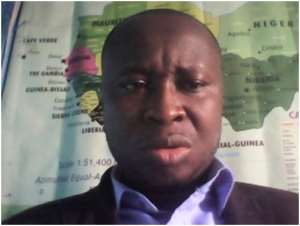 Justice Dansu Norvor---Young Democrats
With the barrage of criticism that the National Security Advisor, Brigadier General Joseph Nunoo Mensah (retired), is receiving from all spectrum of society in both the print and electronic media with regards his statement calling on striking workers to leave the country if living condition in Ghana is becoming unbearable, we in the Young Democrats wish to state emphatically that, his position is not the official position of the National Democratic Congress (NDC) on the situation of striking workers. (see Nunoo Mensah To striking workers: Get Out If…. http://news.peacefmonline.com/news/201310/177838.php ) or (http://www.ghanaweb.com/GhanaHomePage/NewsArchive/artikel.php?ID=289372).
Examining the circumstances of his remarks, where the General openly admitted at a public event, that he was digressing from his official remarks, the General's statements cannot even qualify as an official position of the Government. At best, the General was simply expressing his personal frustrations with the spate of strikes taking place in Ghana.
Most Ghanaians will agree with the General's comments about the need for all Ghanaians to imbibe a more sacrificial spirit, as well as demonstrate more discipline in our ways of life. The view that striking public sector workers should not be paid by non-striking workers will also resonate positively with the 95% of Ghanaians who are not salaried public sector workers.
It is the suggestion that workers dissatisfied with their conditions of service should pack and leave Ghana that seems harsh and which the General may consider withdrawing. The General should remember that unless his withdraw that particular statement, NDC opponents will use it aggressively against the Party at election time.
Inasmuch as Ghanaians are saddened by the numerous strikes that the Mahama-led administration has had to endure, it will be prudent that the utterances of taxpayer-paid senior government officials on such critical national concerns be decently above reproach. We in the Young Democrats surmise that, just as we are, the retired General is frustrated with attempts by labour groups to result to strike actions to coerce government into meeting their grievances.
And in expressing his frustration as any patriotic citizen will do, went beyond the limit to suggest to aggrieved workers to get out of the country if they (workers) could no longer cope with the current economic situation. Unfortunate as this call is, we asked that, it be treated as an expression of personal sentiment and not the position of the majority of Ghanaians who make up the NDC family. It is our belief that, the frustration of the National Security Advisor could stem from the fact that, the effort of the NDC government to introduce the Single Spine Salary Structure (SSSS) which tripled civil servants' salaries is yet to be appreciated by the aggrieved teachers.
History will prove us right that the NDC over the years has contributed to the mitigation of "brain drain" by improving wages and incentive packages for workers at all sectors with the latest call by President Mahama to Ghanaians during a visit to London, UK to come back home and contribute their expertise to the development of our country.
So, the official NDC view is for all Ghanaians to be patriotic, to help in developing the country, and for even Ghanaians resident outsider to come back home to help. President Mahama has repeated these themes to Ghanaians resident overseas in his trips to South Africa, Nigeria, UK, USA, China and elsewhere. It is therefore a contrary view of General Nunoo Mensah to suggest that some Ghanaians are not needed in Ghana.
Strike actions have been part of the societal norm and successive governments have had to endure its ugly side but what seems to be the nuisance in the present government is the lack of crisis management skills by some of our sector ministers. It has become a norm that, the President must address all concerns which could have been resolved at sector levels. Many in the NDC party leadership are of the view that the sector ministers are losing hold of their mandate as trust is at its lowest ebb.
This unfortunate situation has brought untoward burden on President Mahama as he has to address all concerns by himself. Many in the NDC party leadership are now considering the fact that it is high time the Chief of Staff demands all sector ministers to conduct a SWOT (Strengths-Weaknesses-Opportunities-Threats) analysis in their various ministries so as to respond appropriately to forestall future challenges. It is common knowledge that, it is easier to avert a labour strike through the implementation of good policies than to avert an opposition protest.
If the NDC government of Jerry Rawlings could use good communication and negotiation skills to overcome the Kume Preko demonstrations of 1996 and later convince Ghanaians to accept the introduction of the Value Added Tax (VAT), then our sector ministers could do better in their management of the numerous strikes. It is with no coincidence that, President Mahama was by then the Deputy Minister for Communication, and together with the then sector Minister, Dr. Ekwow Spio-Garbrah, performed a yeoman's job to defy opposition protests. As a good communicator, President Mahama is fairly conscious of the key role great communication skills play in harnessing institutional synergy and cohesion.
This kind of transformational leadership which inspires, brings charisma and enhances effective communication and knowledge sharing is what we need at our ministries and government agencies. It is our hope therefore that President Mahama will remind himself of his own role, along with Dr Spio-Garbrah, in convincing Ghanaians to accept in 1998-9 a good policy idea—VAT—which many had earlier rejected in 1995, and use similar communication strategies and skills in dealing with the many areas of public dissatisfaction with his Government.
If we in the Young Democrats will add to the sentiments of Brigadier Nunoo Mensah, Ghana's problem is not only indiscipline but loss of moral and ethical values in our society. When citizens wake up to unguarded political commentaries on the airwaves, reports of corruption in government agencies that are ignored, and insults on the Presidency, underperforming government functionaries, despondence and cynicism is generated among the populace. When state apparatchiks are perceived to live in affluence by way of corrupt practices at the expense of the tax payer; a disillusioned citizenry result to protests to get their concerns addressed.
It is therefore prudent our government functionaries and other commentators demonstrate ethical awareness and to exercise a high level of emotional intelligence when dealing with issues that affect our national development. Government officials cannot claim not to be hearing the daily radio analysis of worker representatives that Government cannot claim there is no money when workers can see government money being doled out on questionable projects and schemes—from Woyome to Asongtaba to GYEEDA
We also admonish the President and the leadership of the NDC to as a matter of urgency appraise our government appointees so as to appoint more experienced and competent ones who could win the trust of the various stakeholders. The NDC still boasts of a number of experienced public servants and communications practitioners who could use their expertise to curtail labour conflicts at the sector levels. The experience of Alban Bagbin as a negotiator when he showcased his collective bargaining skills to thwart a potential strike action by doctors at the time he was the Minister of Health, could have served government better in a government ministry than his present portfolio as a member of a non-functioning group of "wise men".
Then there is a certain Ofosu Ampofo who is well adored by party footsoldiers and the opposition alike for his forthrightness. Also, Dr. Kwame Ampofo, who reportedly was removed from his job at TOR because he would not compromise on his principles, could be the missing link between government and public servants with the integrity he brings. What of tried and tested communication experts like Dr. Ekwow Spio-Garbrah who is not only a proven international diplomat but has unusual creativity and problem-solving skills that could bring more innovation and decisiveness into President Mahama's government? Let us remember the devil's advocacy role Spio-Garbrah played that led to the formation of the GETFUND, his brain-child.
Has not the GETFUND solved the perennial problems in the education sector until we have run out of ideas and lack innovations? Recently, Dr Tony Aidoo has also been expressing his frustrations in public, and little has been heard recently of Mr Victor Smith and Mr Alex Segbefia. Would not President Mahama's government get the right answers to solve our country's socio-economic problems when our competent NDC party stalwarts who have been in the fringes of government for trivial reasons come back just as the Black Stars recently did with experienced players to record a massive win against the Egyptians?
Government needs the trust of organized labour which is the number one stakeholder in national development hence must be sensitive to their concerns for better working conditions. And in a like manner, there must be a sense of national responsibility and ownership of the services all citizens render to the nation. This shared vision is what we need now as a country to solve our struggling economy.
To this end, we in the Young Democrats join other Ghanaians to appeal to striking teachers to forgive the unpleasant utterances of the National Security Advisor, and in the national interest get back at work as we collectively share the responsibility of creating a more prosperous country.
The General should also withdraw his remarks (different from an apology) regarding Ghanaians leaving Ghana if they are unhappy. It is our strongest believe that President Mahama, sensitive as he is will give a proactive response to their concerns. These rare challenges will also give an insight to the President that we need back some of our competent party stalwarts in the mainstream of government so us to benefit from their expertise and experience.
Let's also look beyond the NDC as our current situation demands a collective effort. Let's take a cue from the government of Italy, Spain and Greece which all experienced worse economic meltdown than Ghana but are working hard with an "all hands on deck" approach to scale through when the greater good of their respective countries was preferred to the self-centered interest of a selected few.
May God Bless our Homeland Ghana.
Justice Dansu Norvor ([email protected])
Young Democrats