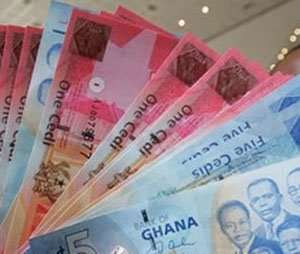 The Ada Rural Bank made history in the rural banking sector of Ghana by recording a whopping 625 percent profit-after-tax in the 2012 fiscal year.
This came to light during the bank's Annual General Meeting (AGM) held at Big Ada over the weekend.
Chairman of the bank's board, David Narh Sabbah, told shareholders that the bank made a pre-tax profit of GH¢304,290 in 2012, a significant improvement over GH¢56,935 recorded in 2011.
'Profit-after-tax came to GH¢274,237, a 625.59 percent increase over the GH¢37,795 we realized in 2011. Indications are that 2013 will be better because we are well positioned to take off.'
He said the bank's total assets increased from GH¢4,406,400 to 6,927,993 between December 31, 2011 to December 31, 2012, representing a 57.23 percent increase while deposits increased from GH¢3,184,733 to GH¢5,566,648, representing an increase of 45.92 percent.
'Investments in Treasury Bills and other government papers increased by 15.71 percent from GH¢1,381,506 to GH¢1,598,515 while shareholders fund also saw an increase of 73.60 percent, from GH¢373,038 to GH¢647,585.'
The board chairman was unhappy with the repayment of loans and other forms of credit contracted from the bank.
He disclosed that the bank was collaborating with sister banks in the Greater Accra region to appoint a debt collector to deal with the issue.
He said the bank would raise its stated capital to GH¢400,000 by the end of this year and GH¢1 million by 2015.
He therefore entreated the existing and potential shareholders to purchase more shares.
Kwadwo Aye Kusi, Managing Director of ARB Apex Bank, in a speech read on his behalf, lauded the bank for the achievement.
He commended the board, bank staff and shareholders for their hard work and dedication.
He, however, cautioned them to eschew complacency and put in place pragmatic policies to add to the bank's fortune.
He advised them to take risk management seriously and continue to upgrade the skills of the workers, especially in Information Communication Technology (ICT) in order to combat crime.
He urged them to vigorously mobilize funds and improve the conditions of service of staff and reward those who excel in customer service to boost its operations.
By Mike Avickson