Will The NPP Request For The Service Of Electoral Commission For Election Of Their Party Officers?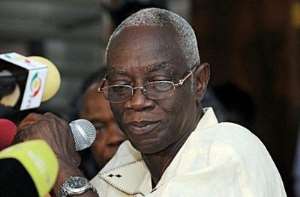 Dr Kwadwo-Afari-Gyan
The demeanor of the New Patriotic Party during and after the 2016 general elections has clearly indicted the integrity and credibility of the Electoral Commission of Ghana under the leadership of Dr. Kwadwo Afari Gyan as the most corrupt electoral institution.
This public indictment and vilification of the Electoral Commission by the leadership and supporters of the NPP after performing poorly during the 2016 general election has raise a lot of questions in the minds of right thinking Ghanaians as to whether the NPP internal elections for the elections of Party executives from the polling station to the National level will be conducted by EC of Ghana, an institution which has been labelled by the NPP as the most corrupt ,Shambolic ,incompetent and incapacitated to organize and supervise elections in Ghana.
In fact, the NPP has lost the Moral right to seek the service of the Electoral Commission of Ghana as far as the elections of their Party Officers is concerned. When these intellectually lazy leaders lead by Nana Addo and his dishonest running-mate, Dr. M .Bawumia wrongly accused the EC of Ghana, they forget that, per Political Parties Act, the party will still need the service of the EC as far as their internal elections is concerned. This has affirmed the position of Dr. Arthur Kennedy that, 'the NPP is not a serious political party'.
Perhaps, the elephants due to their too-known will employ the service of the Togo Electoral Commission or Somalia Electoral Commission and ignore the Electoral Commission of Ghana for the elections of their party executives for the 2016 general elections and subsequently refrain from participating in the 2016 general elections which is to be conducted and supervised by the Electoral Commission of Ghana as they did boycott the previous by-elections with the view point that the EC of Ghana is Corrupt.
We respectfully suggest that, the NPP should set up their own, Electoral Commission of Danaquah-Busia-Dombo and appoint Dr. Pink Sheet, and U and I were not there as the Chairman of such Commission. The mission of that Commission is to conduct and supervise the elections of the NPP and declare themselves winners at all times.
If NPP do not adhere to this proposal by MPP and allows the Electoral Commission of Ghana to supervise the election of their Party Officers, Ghanaians shall forever perceive those Officers as corrupt, Shambolic, incompetent and incapacitated as Corrupt and Shambolic EC cannot compile genuine and credible album/Registry for the NPP internal elections.
NPP will strictly remain in opposition for a very long time.
For and on behalf of the MIRACLE PEOPLE PARTY (MPP)
NANA BAFFOUR ACHEAMPONG
(Interim Communication Director)
0505155525