PURC Implements Automatic Tariff Adjustment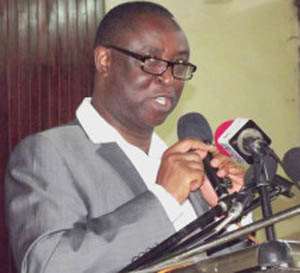 Samuel Sarpong
The Public Utilities Regulatory Commission (PURC) says it intends to implement the Automatic Adjustment Formula (AAF) for utility tariffs by January 2014.
Samuel Sarpong, Executive Secretary of PURC, who disclosed this at a press conference yesterday in Accra, said the main objective of AAF was to review quarterly electricity and water tariffs to reflect changes in factors that affected the operations of utility service providers.
According to him, volatility in the spot price of light crude oil on the international market, erratic nature of natural gas supplies from the West Africa Gas Pipeline, increasing thermal component in the generation mix as compared to hydro and cedi/dollar exchange rate largely affect AAF.
In the second quarter of 2011, Mr Sarpong's outfit reviewed tariffs using the AAF but due to poor quality of service, the increase was not passed on to consumers.
'This was a regulatory sanction aimed at penalizing the utility service providers,' he explained.
AAF is not a substitute to the major tariff review process the commission has just embarked on, he indicated.
'In the past, the commission has implemented the AAF on various occasions and it is unfortunate that stakeholders both in the industry and others outside the industry allude to the fact that the commission did not implement the AAF due to governmental interference.'
Mr Sarpong said the AAF comprises various key components, including the operation and maintenance cost, material costs, depreciation, fuel cost, variation power purchase cost for IPPs, variation in generation mix, energy cost, water treatment chemical costs and CPI inflationary trends.
The implementation of AAF could see tariffs rising, reducing or being maintained, the PURC said.
Between 2011 and the second half of 2012, PURC gazetted tariffs using AAF after the 2010 major tariff review. It ceased the implementation of AAF in June 2012.
By Samuel Boadi