Akosombo Dam In Critical Stage—Energy Minister Warns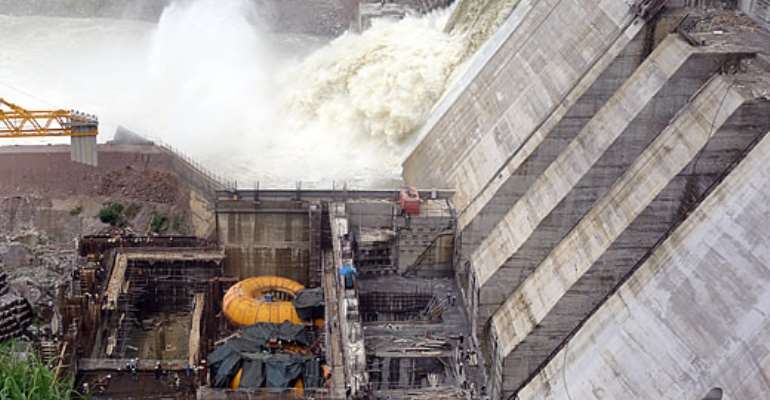 The Minister of Energy and Petroleum, Emmanuel Armah-Kofi Buah has revealed that the Akosombo Dam is in a critical stage due to low volumes of water flowing into it this year.
He noted that this was due to the poor rainfall pattern and it would likely affect electricity supply.
Mr Buah, who was speaking to journalists in Tamale, said unless something critical happened; the country will face a serious energy problem in 2015 and 2016.
The Minister, in Tamale as part of a three-day tour to inspect on-going rural electrification projects in the three northern regions, stressed the need for power supply and distribution companies to adopt the most cost-effective means to generate energy, including thermal and solar, while government and the citizenry used electricity responsibly to reduce the burden.
He said there was also the need for private energy producers to invest in the sector to salvage the situation.
Mr Buah directed the Volta River Authority (VRA) and the Northern Electricity Distribution Company (NEDCO) to cut-off government departments and MMDAs that failed to pay electricity bills, saying, "all departments and MMDAs must be connected to the pre-paid meters to ensure that they use energy responsibly".
According to him, all government departments, ministries, institutions and agencies must find realistic source of funding to pay their electricity bills and that the country must adopt measures towards moving to realistic tariffs for everybody in order to meet the critical demand of the nation.
Mr Buah noted that all government agencies had annual budgets and part of their budgets included expenditure for utilities, adding they must use such funds to pay for the electricity they consume.
On the directive from the President to Ministers to pay electricity, Mr Buah said a team had been put in place to ensure compliance and that the process had already started.
He said the northern part of the country had low electrification and the need to expand energy to all parts of the area was very critical.
Mr Buah urged all state institutions that are into the energy sector to work in tandem to address the challenging times, adding that "On Thursday, we will be launching a new initiative in Garu in the Upper East Region to promote the use of LPG as alternative source of energy for rural dwellers".