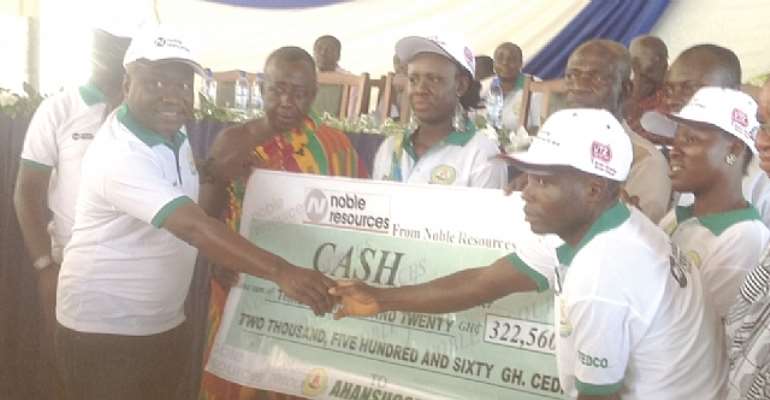 Ghana's cocoa beans would soon be prohibited from entering the international market due to high dosage of pesticide residues that are reportedly found in them.
Professor Emmanuel Ohene Afoakwa, Associate Professor of Food Science and Technology at the University of Ghana, who disclosed this in an interview with CITY &BUSINESS GUIDE recently, said the pesticide residues had rendered the beans unsafe for human consumption, adding that 'it can cause cancer in the lungs and kidney.'
According to him, 'If we don't address the problem quickly, our cocoa trade is going to be out of business in some few years to come.'
Prof Ohene Afoakwa explained further that 'we can't sell the beans to the European, American and Asian markets if we don't control the use of these pesticides.'
Citing an example, he said recently a ship loaded with Ghana's cocoa beans was rejected in Japan due to high dosage of pesticide residues found in the cocoa beans.
The Europeans are also being critical about cocoa beans produced in the West African belt because they have also found that high residues, Prof. Ohene Afoakwa said.
He attributed the development to excessive spraying of pesticides on cocoa by the farmers, who believe that high amount of the chemical would kill all the pets rapidly and completely.
Prof Ohene Afoakwa partly criticized government for leaving the control of blackpod and swallow shot in the hands of the farmers.
He said the farmers must be guided and trained by extension officers to prevent excessive spraying of pesticides on the cocoa.
He called for the employment of more extension officers to educate the farmers on how best to spray the pesticides.
Speaking at an inter-faculty lecture organized by the University of Ghana, Legon, Prof Ohene Afoakwa said efforts must be made to ensure that the country reaps enormous benefits from cocoa production.
He said strategies must be adopted to enhance primary production and continuous education on health benefits of cocoa consumption in order to help address the problems.
 By Cephas Larbi