Apple's got it wrapped up for Christmas! iPad Air is TWICE as fast, 20% thinner, weighs just 1lb and comes with a Retina display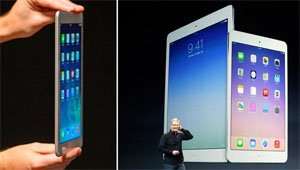 iPad air
Apple has barely had time to restock the shelves since its latest iPhone launch but that hasn't stopped the tech giant unveiling its latest iPad – renamed the iPad Air.
The announcement has added serious fuel to the fire in the battle of the tablets in the run up to Christmas and comes just hours after Nokia entered the tablet market with its Lumia 2520 and Microsoft started selling its new Surface devices.
The iPad Air is thinner, lighter, more powerful than ever before, Apple said.
It has 9.7-inch Retina display with a smaller bezel and is 43 per cent thinner than the previous model, making it more comfortable to hold.  It also has a 5MP camera and dual microphones for the first time.
Apple announced that the device will become available in mid-December in four colours – silver, white, 'space grey' and black. Prices will start from $499  for a 16GB model with UK prices starting at  £399.
The tablet is 7.5mm thick and weighs just 1lb, compared to the 1.4lb previous model, making it the 'lightest full size tablet in the world'.
The tablet also has Apple's A7 chip, that was just launched in the iPhone 5S and is twice as fast as before. The graphics are 72 per cent faster than the very first iPad.
It's almost a year to to the day since Apple's CEO Tim Cook unveiled Apple's first generation iPad mini.
 
Speaking to the crowd at San Francisco's Yuerba Buena Center for the Arts, he said: 'You're going to see some amazing products this morning.'
 
Apple also unveiled a new iPad Mini with a new high resolution 7.9inch Retina display, which also has the new A7 chip from the iPhone 5s.
 
It boasts 10 hours of battery life, improved wi-fi and better LTE support, and is available in silver, white, space grey and black, contrary to rumours that suggested it would come in a rainbow of colours like the iPhone C.
Dailymail.co.uk